Canals In Venice Are Sparkling Clear As Coronavirus Shutdown Eliminates Boat Traffic
by Valerie Williams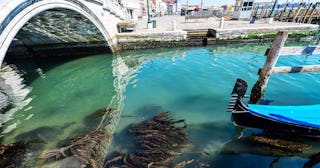 ANDREA PATTARO/Getty
The canals in Venice are so clear fish can be seen due to the coronavirus-related reduction in boat traffic
As the entire world continues to grapple with the coronavirus pandemic, a handful of bright spots have made us smile a little bit. Jimmy Fallon is putting out mini versions of his shows with his pair of adorable daughters, Ellen is entertaining us like usual, and Animal Planet is giving us days of puppy and kitty content to calm our panicky souls. Now, photos are showing the canals of Venice, Italy — typically very murky due to boat traffic — sparkling clean after being left alone for several days amid the country's virus-related lockdown. There's even swans, you guys.
Twitter user Kaveri posted stunning photos of the swans and the sparkly water. "Here's an unexpected side effect of the pandemic — the water's flowing through the canals of Venice is clear for the first time in forever. The fish are visible, the swans returned."
It's truly something to see.
Dolphins have also been spotted.
I've been to Venice and can personally attest to the fact that although beautiful, the canal water was very cloudy as boats are constantly traveling. Over several days there, my family never saw any fish or swans. The reason for the canals being so stunningly clear isn't a great one — but if we're looking for silver linings amid a literal worldwide pandemic, swans and dolphins returning to Venetian canals is a pretty good one.
But before we get too excited about actual and real pollution disappearing, an official from the Venice mayor's office explains to CNN what's happening. "The water now looks clearer because there is less traffic on the canals, allowing the sediment to stay at the bottom. It's because there is less [of the] boat traffic that usually brings sediment to the top of the water's surface."
Honestly, we'll take it. Anything that brings swans and dolphins out, swimming gleefully in clear waters, is a huge plus.
Happily, there are some temporary changes to the environment due to the country being on lockdown. The mayor's office says, "The air, however, is less polluted since there are less vaporetti and boat traffic than usual because of the restricted movement of residents." Vaporetto are the city's water buses.
As we continue to live socially-distanced lives in an attempt to flatten the coronavirus curve, it will become all the more important that we find bright sides to what can feel like very dark and uncertain days. Thanks to our social media-filled world, we can see and appreciate the beauty popping up where we least expect it.
This article was originally published on