There Is A Vibrator That Doubles As An Alarm Clock, And I'm Obsessed With It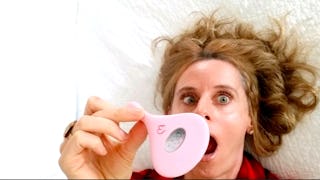 Katie Bingham-Smith
Ladies, I have a confession: I've barely left my house this week, and I have a valid reason. It's called The Little Rooster, also known as an orgasm clock. You know, a vibrator that you can slip in your panties at night, set the alarm, and wake up with your juices flowing instead of some annoying, incessant beeping sound. I mean, who is going to want to go back to sleep when there's an actual party happening in their pants?
It's not some crazy lawnmower action either. You wake up gradually, as the levels pleasurably increase.
But just in case you are into getting a little shut eye in between Jillin' off sessions, there is also a snooze button. I know.
This baby has 30 levels. Thirty.
It is silent.
It is rechargeable.
It's my new favorite way to buzz one off. And you need it in your life.
When the cute little package arrived in the mail last week, I couldn't wait until the next morning. I decided I would set my Rooster alarm extra early and get to know it a little bit better — getting sexy in the beginning of a relationship is always so exciting.
But I had no self-control after slipping the smooth pink stick into my bloomers. It was perfectly contoured to my body — it felt so right. I decided to turn it on that night to see if this new stirrer could mix me in all the right ways.
I'm just going to cut to the chase here: The Rooster had me at speed 1.
It knows how to tease you in all the right places and leaves you wanting more. Before I knew it, I was on speed 5, and there was no turning back. If the house caught ablaze at that very moment I wouldn't have turned it off.
After that rise to crescendo, I wondered if maybe setting the alarm to get an aroused awakening in eight short hours might be a bit much, but I've always been a risk-taker, so I moved forward with my morning plans.
And low and behold, both sets of my lips were smiling the next morning. When I woke my kids up for school a half hour after taking myself to pleasure town for the second time in a 12-hour period, my kids asked me why I was so cheery (I'm usually not a talker in the morning), and there was an awkward pause, but I remembered I'm the boss and I don't have to answer to them.
I went about my day, but after lunch while folding laundry, I found myself looking forward to going to bed so I could have time with my new fun stick. I was missing it already. Then I thought, hell, why not slip it in now?
I do hate folding laundry and The Rooster made it much better. Honestly, the folding stopped at speed 3, but I will tell you my vagina went from the delicate cycle to the spin cycle in under five minutes so that's all that matters.
Was I afraid I was going to break my vagina with my new toy? Maybe.
Did I think about taking my new toy with me to the grocery store? Perhaps.
I totally would have, too, but I just know I'd start squeezing the produce in an inappropriate way. Also, I think sharing my orgasm face with the sweet young boy who stocks the shelves, and the nice little old ladies who shop early on Tuesday morning to get the best deal on meat would ruin it for me. I can be selfish like that.
I spoke with the genius behind my new beloved clit stick, Tony Maggs, and asked him how they came up with such a genius idea — the man literally thought of everything. Clearly, he put a lot of time and effort into his brilliant creation. "Getting it right took a lot of work and a lot of testing, but the idea itself came to me quite suddenly one morning as my girlfriend was waking me up in a particularly pleasant way," he says.
Bravo, Tony. Bravo.
This exciter isn't to replace your partner either. It's lovely to wake up slightly aroused and roll over and alert your lover it's time to get busy.
It's even more fun to take it with you on a dinner date and end your meal with dessert and a little provoking from the pink electric daddy (I recommend setting 2 for this) to get you ready for the real thing when you get home. Just be aware you may not to be able to make it. There is no shame in begging your partner to pull over in a deserted parking lot and service your clam before The Rooster does it for you.
Or just have your own When Harry Met Sally moment right there in your favorite diner. Or the produce department.
And for us single ladies, when no one is available to crack our marbles, it's nice to know we don't need a cock in our doodle to crow.
If you enjoyed this article, head over to like our Facebook Page, It's Personal, an all-inclusive space to discuss marriage, divorce, sex, dating, and friendship.
This article was originally published on