A Realistic Description Of The Volunteer Committees At Your Kid's School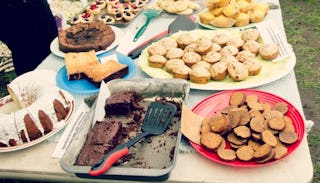 Erika J Mitchell / Shutterstock
The first rule of thumb for any PTA president is this: Never tell volunteers the truth about what they are actually getting into. I know this because I'm a recovered PTA president myself.
PTA presidents are optimistic by nature. They have to be or they'd never take an unpaid full-time job that will end with half the school's parent community hating them and the other half avoiding them so they don't have to volunteer themselves.
That's because volunteering at school can be a giant time suck that ends with some seriously bad blood. Your PTA president may have known that, but she couldn't tell you when she asked you to chair the annual St. Patrick's Day celebration at school or serve on the book fair committee. That's because she needed you. She needed your help on campus, or she'd be stuck decorating for the Spring Fling herself.
So what are you really getting into when you volunteer at school? Well…
The Beast: The Annual School Fundraiser
Gala, event, fundraiser — every school has one big one each year. Expect a 15 to 20-person committee, meaning you'll be on "Reply All" email threads that will read longer than the Bible.
The committee will be filled with former party planners, all of whom vow to make this year's event more spectacular than last year's (read: more work for you).
No one on the committee will be speaking by the time the event rolls around, and half of the committee will vow never to volunteer again. Expect lengthy meetings to discuss important things like themes and napkin colors.
If your favorite party theme is "Who gives a shit?" this is probably not the committee for you.
The Introvert's Volunteer Job: Room Parent
The title of "Room Parent" sounds impressive, but the job actually entails little more than passing prewritten-by-the-school emails on to the parents of your child's classmates.
This sounds dreamy in an "I didn't actually have to do much" sort of way — until all 30 parents in your class respond to all of your emails with questions that you probably can't answer.
Expect to spend the school year in hot pursuit of answers to questions like these: When is the first day of school next year? Can our entire school go gluten-free? Why is Thanksgiving always on a Thursday but Halloween can't always be on a weekend?
By the end of the school year, you'll introduce yourself as "I have no idea" and vow never to choose such an "easy" volunteer job again.
For Those Good With a Hot Glue Gun: The School Carnival
Most schools have a carnival at least once a year. That carnival has to be put together by someone. That someone is you. Well, it's you if you're crafty, good with a jigsaw and hot glue gun, and if you enjoy sunburns — because even though each committee member signed up for a shift, you're one of few who will actually show up.
Oh, and don't forget, someone's got to get in that dunk tank. Whose idea was it to have a dunk tank anyway? Oh, right. That person was you.
If You Drive an SUV: The Green Committee
At every school, there is the green contingent of parents who want the school to go paper-free, kids to bring no-waste lunches, and school books to become a thing of the past. These are all great ideas. But since most parents drive gas-guzzling cars big enough to require their own zip codes, the greening up may need to start in the parking lot.
The Committee for Do-Gooders: The Community Service Committee
Your first community service committee meeting will leave you filled with hope, optimism, and a sense of purpose. You'll be proud to serve on the community service committee — until you look around the room and realize almost half of the committee members have flipped you off in the parking lot of school at least once.
The People No One Makes Eye Contact With: The Annual Fund Committee
Whether your kids go to a private or public school, your kids' school will need more money than it has. To raise that money, the school will recruit its best salespeople to fundraise. You'll join the committee with hopes of really helping the school — not knowing that no one at school will ever make eye contact with you again.
The One-Night Stand Committee: The Book Fair
Sure, you have to load hundreds of books into your school's auditorium, organize them by title, genre, and reading level, lift tons of boxes of heavy books in and out of trucks, and manage the two- or three-day book fair once the event date rolls around. But no matter what, the book fair is only once a year, and it's only a few days. You get to be a volunteer hero without having to spend your year volunteering. Boom! Mic drop!
Let's Hope You Can Cook: Teacher Appreciation Committee
Our teachers are on the front lines with our little darlings each and every day. In some cases, our teachers see our children for more time each day than we parents do. So what better way to show our appreciation for our children's wonderful teachers than by throwing them a luncheon with no budget? Let's just hope you're good at cooking for 60 or so hardworking teachers.
Luckily, my kids' school has a lovely PTA president who tells it like it is. That still doesn't make me want to chair the school's big annual picnic, but it does make me happy to help. So which committee will you choose?
This article was originally published on