Volunteers Needed To Knit Tiny Red Hats For Babies For A Good Cause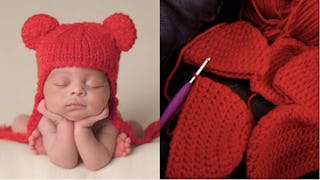 Image via Instagram/American Heart Association/Sunshineyarndesigns
Red hats for preemies and full-term babies are needed
If you're a knitter or crocheter with some time to spare for a good cause, the American Heart Association (AHA) and the Children's Heart Foundation (CHF) need your help. This February, the AHA needs thousands of red, newborn-sized hats for a project they call, Little Hats, Big Hearts.
So grab some red yarn and get ready to make some itty bitty hats to promote heart health in families and raise awareness for babies born with heart defects.
February is the month of love. It's also American Heart Month, and therefore no better time to spread awareness about how to have heart-healthy families and to educate the public about congenital heart defects, which affect approximately 40,000 babies per year.
When it comes to healthy hearts, the AHA's Healthy For Good campaign encourages families to "eat smart, add color, move more, and be well" with free articles, videos, and healthy hacks. What's a healthy hack? We don't know, but it sounds like something we need in our lives immediately.
The AHA and CHF also want to raise awareness about congenital heart defects, which are the most common form of birth defect. Of the 40,000 babies born with heart defects each year, one in four will be critical enough to require surgery or procedures such as cardiac catheterization (often multiple times) during their first year of life.
Every baby born in February at a participating hospital will receive a hat that was created by a volunteer for Little Hats, Big Hearts.
The project started in 2014 in Chicago, with 300 hats distributed. This year, hospitals in 40 states will be participating.
Not a knitter? Never crocheted a day in your life? No problem: Little Hats, Big Hearts will also accept donations of yarn!
Any yarn donated or used to make hats must be red, cotton or acrylic, medium to heavy weight, and machine washable and dryable.
The AHA has links to 6 different hat patterns on their page. They ask if you use your own pattern, you make it simple — no buttons or bows that can present choking hazards to infants.
To find out where the nearest participating hospital is and what your local guidelines and deadlines are, type in your state at the Little Hats, Big Hearts page on the AHA's website.
Knit one pearl one, people!
(h/t Today.com)