And I Oop! 11 VSCO Coloring Pages For The VSCO Girl In Your Life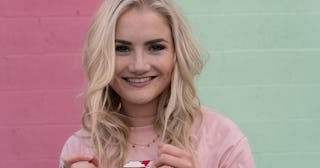 Joshua Aragon/Unsplash
If you're the parent of a tween or teen, you've for sure heard the term "VSCO girl" by now. But, like, what does that even mean? You might have tried to start a conversation with your kid to find out. Alas, we all know figuring out how to talk to kids that age is never easy. You're in luck, though — we, the people of the internet, have the answers. Clad in crop tops, Crocs, and puka-shell necklaces, the VSCO girl has a beachy surfer vibe about her, even if she lives in Ohio. She might have talked you into the expensive Hydro Flask and (also expensive) funky Scandinavian square backpack for her first day of school. She most definitely has an oversized scrunchie around her wrist and considers herself "chill." Does any, all, or most of that describe your daughter? Congrats! You birthed a VSCO girl. And because we know you're looking for more ways to connect with her, we created a collection of VSCO coloring pages for the two of you to bond over.
Now that you've had a few minutes to ponder the above description, you're probably thinking, "Wait, was I a VSCO girl? Am I still a VSCO girl?" Yeah, Boo. Probably. The big diff? The *new,* now-with-a-fun-label VSCO girl comes with pet causes. She cares about the ocean, clean water, and sea turtles. Who are we to argue with that? "But, Scary Mommy, why are you labeling my teen?" Hey, we didn't come up with the VSCO girl phrase. It looks like it originated on TikTok, like everything else these days. And definitely don't take our sarcasm as contempt. We love our VSCO girls because, yeah, many of us were VSCO girls before they had a label. If we weren't, we were emo, goth, preps, or some other socially necessitated label. Being a teen is hard work and requires a ton of self-exploration. Labeling ourselves, outfitting ourselves in the uniforms of our subculture, and often, settling into the music that defined it is all part of getting to know yourself.
Speaking of music, we pulled some lyrics from bands and artists that seem popular with VSCO girls right now. It might not help you understand the adolescent at your dining room table, but sneaking these lyrics into conversations while you work on our VSCO coloring pages might just earn you some brownie points. And so will following up these pages with our collection of coloring pages for teenage girls, aesthetic coloring pages, girl coloring pages, and trippy coloring pages.
Free Printable VSCO Coloring Pages
VSCO Page No. 1
"'Cause we could stay at home and watch the sunset
But I can't help from asking, are you bored yet? And if you're feelin' lonely, you should tell me Before this ends up as another memory Will you tell the truth so I don't have to lie?" — "Are You Bored Yet?" by Wallows
VSCO Page No. 2
"And it might be pathetic
And you might be skeptical But I just want to be with you Please tell me, boy, can you Get a clue or come through 'Cause I just want to be with you." — "Falling For U" by Peachy!
Did you know the first digital camera was first invented in 1975 by Steven Sasson, who worked at Eastman Kodak?
VSCO Page No. 3
"You look so nice in your shirt
It's sad because it just hurts I'd do anything for you But would you do that for me, too?" — "Bubble Gum" by Clairo
VSCO Page No. 4
"I want it all
I've got this lovesick feeling But there's nothing like it, nothing at all I know your heart's still beating And I want it all, I want it all Or nothing at all." — "I Want It All" by Coin
VSCO Page No. 5
"Maybe sometimes we feel afraid, but it's alright, yeah
The more you stay the same, the more that they seem to change And don't you think it's strange?" — "Put Your Records On" by Ritt Momney
Did you know that one out of the three people who go to the beach cannot swim?
VSCO Page No. 6
"It used to be so hard to see
Yeah, loving is easy When everything's perfect Please don't change a single little thing for me." — "Loving Is Easy" by Rex Orange County featuring Benny Sings
VSCO Page No. 7
"I'm not that simple
Neither are you I'm not that simple Come see me through" — "Nobody Gets Me (Like You)" by Wallows
These animated beverages remind us of Starbucks, which has a super nautical theme by the way. It was originally going to be named Pequod, which is the name of Moby Dick whaling ship.
VSCO Page No. 8
"And you're probably with that blonde girl
Who always made me doubt She's so much older than me She's everything I'm insecure about Yeah, today I drove through the suburbs 'Cause how could I ever love someone else?" — "Drivers License" by Olivia Rodrigo
VSCO Page No. 9
"Oh, Hannah, I wanna feel you close
Oh, Hannah, come lie with my bones Oh, Hannah, don't look away Oh, Hannah, just look at me the same I don't wanna be your friend; I wanna kiss your lips (ooh-ooh-ooh) I wanna kiss you until I lose my breath." — "I Wanna Be Your Girlfriend" by Girl In Red
Fun fact: The name cactus comes from the Greek word Kaktos which means prickly plant of Sicily. (Very fitting!)
VSCO Page No. 10
"Coming and going
Inside out Back to front Oh, tangled and messy That's how we've been, and we'll always be And that's alright with me." — "Easily" by Bruno Major
VSCO Page No. 11
"This poem is for a girl who is my friend
This lines are for a girl who till the end Will be and remain my true friend Our friendship knows no end You are my ever best friend Our friendship does not have an end." — "For a Girl Who Is My Friend" by Unknown
Before cassette tapes were used to play sweet tunes, they were used to listen to people speak. They were even compared to magazines.
Click here to print all of the VSCO coloring pages at once!
This article was originally published on