10 Products That Make Waking Up So, So Much Easier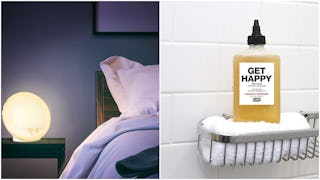 Image via Amazon
Prepare for your morning routine to get infinitely better
Morning crankiness, you have officially met your match. There's not a whole lot we can do about having to wake up at the crack of dawn to get a bunch of stuff done but there are a few ways to make the process a little easier. Get ready to feel a wee bit less like a frantic madwoman when the AM hits.
This wake up light stimulates sunrise and will gradually brighten the room to help you leisurely get up. It also doubles as an alarm clock and an FM radio. Bonus points: you can also use it as a sleep aid, complete with soothing sounds to lull you into some serious slumber.
Nothing will wake you up more than taking a hot shower filled with really good music. Blast all the Beyoncé you want with this waterproof, wireless portable speaker.
While you're singing "Run the World" at the top of your lungs, wake yourself even more with this aromatherapy body wash. It's packed with organic essential oils and peppermint, which will perk you right up.
Guilty of hitting the snooze button, like, 100 times? Meet Clocky, the runaway alarm clock. It's built with wheels and will literally run from you when you try to silence it. Sometimes you just need a big, big kick of annoyance to get of bed.
Want to wake your tired eyes up ASAP? Snag this BYE BYE Dark Circles + Hello, Bright Eyes combo pack, which promises to brighten and refresh. Also, the 24k gold eye patches will hydrate and firm up your skin while you take care of all those morning tasks.
Before you drink your coffee, you should hydrate up. Keep this insulated stainless steel bottle by your bedside and you'll wake up to chilled water every morning (the bottle keeps liquid cold for 24 hours!)
You can't say successful morning without a steaming pot of coffee. Snag this Amazon bestseller that self-cleans, has an adjustable warm temperature control, and 1-4 cup setting.
There are few things that will put you (and your family) in a better mood than some delicious, freshly made morning waffles. These can be cooked in under ten minutes and has a non-stick surface so you're not going to be scrubbing away batter at 7 in the morning.
This Premium Aromatherapy Mist is made from citrus and eucalyptus essential oils and promises to perk you right up.
Get all your morning thoughts down in this very cute, very profanity-filled journal. It's all about practicing the "mindful art of not giving a sh*t" and where do I sign I up?
Here's hoping that your mornings are about to get a whole lot better and your crankiness just took, like, a 75 percent dip.
We may earn fees from purchases made via links on this page and affiliated sites. All opinions are our own.
This article was originally published on