Hey Walmart, Suicide Is Not A Costume
by Elizabeth Broadbent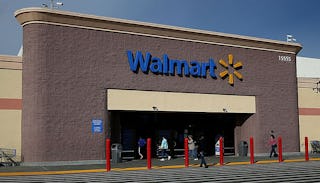 Justin Sullivan / Getty
Trigger Warning: This story contains an image depicting suicide.
Apparently Walmart thinks suicide's a joke. This year, their Halloween store is selling a latex prosthetic of slit wrists called "Razor Blade Suicide Scar Wound Latex Costume Make Up" (sold and shipped by Totally Costumes). The photo featured in the ad shows the deep wounds, two in number. But there's more: The product listing not only shows the prosthetic, it depicts a suicide attempt. Poised at the end of one of the slashes is a hand holding a razor blade — not included in costume. Its occasion is listed as "Party."
You use these, the description reads, to "complete your undead theme."
There was one review (now deleted): KmKm gave the product one star, and speaking for all of us, said that, "I am disgusted that you would think to make this a costume. Suicide is not a joke."
No shit, KmKm. Walmart should know better. Suicide is currently the second leading cause of death for people from 10 to 34 years old, the fourth leading cause of death for those from 35 to 54. In 2014, 42,773 people in America killed themselves, according to the CDC. For every completed suicide, there are 25 attempts. While cutting one's wrists isn't a common method, falling under the 7.5% "other" category of suicide deaths by method, a large number of the 494,169 people who visit the hospital for self-harm have slit their wrists or otherwise cut themselves. According to the American Society for Suicide Prevention, surveys say that one million Americans attempt suicide every year. That would be 1 in 33, a horrific statistic.
There are about 117 suicides every day in America. Each suicide leaves behind a devastated family and friends wondering what they could have done to stop the tragedy. As suicide is most common among older people, many suicides leave behind adult children and grandchildren, some even children.
Suicide is not a joke, indeed. Suicide is not a costume. Joke about zombies. Jokes about chainsaws. Joke about bloody knives and swords, please, but don't pretend you've attempted or succeeded in killing yourself, the end result of intense mental anguish and misery. It's not cute to pretend to rip yourself away from life, from your family, from your friends. And more importantly, it's a grave insult to those who have made the terrible decision to take their own lives, and left us all bereft.
It's also an insult to the millions of Americans who suffer from mental illness. Like suicide, mental illness is no joke. According to the Kim Foundation, 26.2% of adults, or about 1 in 4, "suffer from a diagnosable mental disorder in a given year." More than 90% of suicides suffer from a diagnosable mental disorder. I count myself among the 1 in 4. More disturbingly, I also count myself among the depressives, which along with substance abusers, account for the vast majority of suicides. I have suffered from suicidal ideation. I have been hospitalized for suicidal ideation. I have self-harmed and have the scars on my wrists to prove it. The same scars, in the same places, that Walmart thinks are a "party occasion."
As a representative of the mentally ill, I am grossly offended by this costume. It makes light of my disease. Even worse, it makes light of the possible terminal result of my disease, the terrifying end to everything. To imagine that people think it's a suitable Halloween costume makes me sick and angry. What happened to sticking in some fake teeth and going as a vampire?
Moreover, no suicide attempt survivor would show off their scars in this way. They'd hide them under long sleeves. Not only is it crude and offensive, it's inauthentic.
For $3.99, plus $5.25 shipping, this suicide mock-up could be yours. Or you could buy it from Walmart's other fulfillment company, for an extra $2. If you want one, act now, since at press time, there are only two left in stock. Which is also very disturbing: How many did they have in stock to begin with? How many people have already purchased these? What sick fucks will use these to mock people like me?
Walmart is supposed to be a family-friendly establishment. No way is this costume family-friendly. In fact, it's an insult to grieving families — families affected by suicide and mental illness alike. If the corporation wanted to live up (har har) to their reputation, they'd pull the product and issue a full apology.
I'm not holding my breath.
Update: Since publishing, we were contacted by Walmart's media relations team with this update: "This costume is appalling and it was unacceptable for a third-party seller to list it on our marketplace. It clearly violated our prohibited items policy and we removed it when it was brought to our attention."
[free_ebook]
This article was originally published on