How to Create A Neighborhood Scavenger Hunt For Kids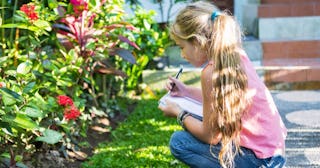 Marc Romanelli/Getty Images
Are you and your kids feeling a little stir-crazy? Have you exhausted the heck out of playing Uno? If you want to take advantage of the nice weather (and give everyone in the fam a bit more space), consider putting together a neighborhood scavenger hunt. First of all, this is a fun outdoor activity that your little ones will enjoy. But creating a neighborhood scavenger hunt is also easy to do — and mamas need easy right now. Not to mention, neighborhood scavenger hunts can be a dynamic way for little ones to interact with their community while social distancing. And on top of all of that, this extracurricular can add an educational element to outdoor playtime.
Plus, the possibilities for neighborhood scavenger hunt ideas are endless. You can tailor the hunt in all sorts of ways, from nature-themed to springtime to colors and words. Don't worry, though; we aren't going to leave you in a lurch by making you rack your brain for ideas. We've got plenty right here, along with tips on how to create the perfect neighborhood scavenger hunt for kids.
Neighborhood Scavenger Hunt Ideas for Kids: General
Creating neighborhood scavenger hunt ideas depends on your kids' ages and the ages of anyone else who wants in on all the fun. Putting together a theme is an easy way to begin, though. Some ideas might include:
Nature. Kids will get the chance to touch, smell, and collect random elements from nature. For example, you might ask them to find a flower bed, a bird's nest, the sighting of a squirrel, etc.
Vehicles. Kids can take pictures or make drawings as they go. You might ask them to write down the different vehicle types they see in their neighborhood and tell you their favorites.
Color. Using a color wheel, you can assign each child a specific color range. Their task? To collect items around the neighborhood that match the color.
Alphabet. Want to reinforce your little learner's ABCs? Have them collect (or write down) different items in the neighborhood representing each letter of the alphabet.
Holiday. Hey, if your hunt happens to coincide with a major holiday, work it into your theme! So, if Easter is coming up and yard decorations are up, ask your kiddo to find various objects that symbolize the holiday. This exercise could lead to a larger discussion about the origins of holiday symbolism if you're open to it.
Random. You can also make a random list of common items that could be found in your neighborhood and have your kids go out and find those items. Examples might include a bicycle, a garbage can, a stop sign, etc.
Neighborhood Scavenger Hunt Ideas for Kids: Specific
If you want to amp up your scavenger-hunt-creating skills, you can theme yours around specific motifs. What does your kid love to do? Use that question as a springboard to dive into more defined themes. For example, we'd suggest:
Harry Potter. Gotta love a little Potterhead! If your kid is crazy about all things Harry Potter, that can be your theme. Have them find items that match the colors of the house flags (#RavenclawForLife). Ask them to look for objects Harry, Ron, and Hermione would use to save Hogwarts from He-Who-Must-Not-Be-Named. You get the (delightfully nerdy) picture.
Disney. You don't have to live near Walt Disney World or Disneyland to create a little Disney magic. Task your kiddos with finding items in the neighborhood that remind them of their favorite Disney characters. You can also develop specific prompts — like, which house in your neighborhood would Roger and Anita from 101 Dalmatians live in and why?
How to Create a Neighborhood Scavenger Hunt List
Here's where you, the parent, get to let your creative genius run wild. After you've decided on a theme, brainstorm all the possibilities that might go with that theme. When creating the scavenger hunt list, think of the five senses and how you might incorporate those into the hunt. For example, you can ask your kids to collect things as well as take pictures or get artistic by drawing. You might even ask them to smell a flower or roll around on the grass. Offer them a variety of options (a list of 10 is good), but make sure those options are accessible to your kids. After all, you want them to succeed in the hunt!
If you were to create a nature-inspired neighborhood scavenger hunt, your list might look like this:
Smell a flower or a leaf.
Find something fuzzy.
Roll around in the grass.
Listen to a bird chirp.
Locate two different types of sticks.
Watch a squirrel.
Describe something pretty.
Pick up two pieces of litter.
Draw a bird's nest.
Collect three different shapes of stones.
How to Set Up a Neighborhood Scavenger Hunt
As luck would have it, this isn't too hard. Here's what to keep in mind.
Give yourself time to plan. Commit an hour to brainstorming a theme and coming up with ideas for the hunt list, as well as mapping out safe parameters for your kiddos.
Scout out locations. Scouting coincides with mapping out a route. It's a good idea to specify locations for safety and logistical reasons. That way, you know where they are at all times, and you also know they're not straying too far or going in a neighbor's backyard (the same neighbor you know won't be cool with it).
Create the list. Print or write out your list once you finalize it. Feel free to include clues, too!
Ask your neighbors to come on board. If you want to play nice with your neighbors, you can always coordinate with them in terms of hiding clues on their property or at least letting them know what's going on. And since neighborhood scavenger hunts are social-distancing-safe, you can extend an invitation for their kids to join. It'll take a bit more coordination on your part, but it'll be totally worth it to bring a smile to all the neighborhood kiddos' faces.
What are some good scavenger hunt clues?
A huge part of a successful and fun scavenger hunt is the clues! But if you're not the creative type, no worries! We have several examples from the internet you can use to confuse and challenge the kids.
Tall and strong, I stay outside. The sun, the rain, they're by my side. I give birds homes and help you breathe. I even give you fruit to eat. (Trees)
On, off, that's all I do. But my purpose does more for you! Turn me on when it's dark at night. My brightness beats out candlelight. (Lamp)
Strong and sturdy, count on me! Just keep me locked, and you'll see. Tall and solid, all homes have me. To get me open, you'll need a key. (Door)
Soft and plump, I'll be right here. Throughout your dreams, you'll keep me near. I'll keep you comfy throughout the night, and you'll leave me here in the morning light. (Pillow)
From dirt, to paint, and everything in between, I'm your number one companion in keeping clean. (Soap)
Hop on, let's go, don't make me beg. My wheels are fast, but use your legs! (Bike)
A full one puts a smile on your face. You keep on going like it's a race. But as my contents start to diminish, you'll start to think if you're ready to finish. What am I? (Plate)
Things go inside me when dirty but come out clean. You will find me standing sturdily next to my mate. (Washing machine)
I can bring good news and magazines but am often full of junk. I can be creaky, or even squeaky, and can close with a clunk. (Mailbox)
I will keep your books safe in my pack. Zip me up before slinging me on your back. (Backpack)
​​I'll keep you cool on a hot, sunny day. But don't forget to put me down, or I'll blow away. (Umbrella)
This article was originally published on