A Wedding Dress Party Is The Very Best Kind of Party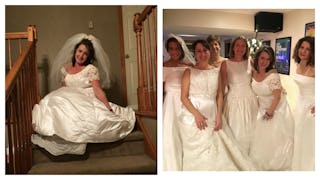 Christine Burke
When I was planning my wedding, the detail that made me the most excited was my wedding dress. I simply couldn't wait to wear the veil I'd chosen and I loved my simple, off-the-rack dress from a big box bridal store. I felt like a princess when I wore it and when our big day came and went, I was actually a little depressed to have to pack my pretty ivory frock and veil away.
Over the years, I've pulled the dress out to show my kids and to make sure it hasn't been devoured by squirrels or moths. And when I open the box, the first thing I do is put on my veil. I sigh heavily when I put it back in the box because it's just not socially appropriate to wear your wedding dress out to go grocery shopping. (Though it damn well should be.)
A few months ago, my friends and I were talking about the old Friends episode where Rachel, Phoebe, and Monica decide to hang out in their apartment while wearing their wedding dresses. As we laughed at the absurdity, one of my friends suggested we throw a wedding dress get together of our own. And after much discussion, The Great Wedding Dress Party was born.
That's right.
Five of my friends and I decided to surprise our husbands by coming downstairs, resplendent in tulle, satin, and a whole lot of giggles. They stared, agape, wondering how they got so lucky to be married to such fun and amazing women.
When I posted about it on Facebook it turns out, we weren't the only ones dying to wear our wedding dresses again. Hundreds of comments by women who all cheered us on for throwing the best. party. ever. Because who doesn't want to feel like Molly Ringwald at the end of Sixteen Candles every once in a while?
Seriously, ladies, dust off your wedding dresses and plan your parties, already.
As the evening approached, we were practically giddy about our big surprise. Group texts flew, jokes were made and we all sent pictures of our dresses as we unearthed them from the recesses of our closets.
The only problem? We all got married 20 years and 8 kids between us ago. Let's just say that our mom hips had far expanded the satin we needed the first time around. But NBD — nothing a few pins and some duct tape (or a whole roll of duct tape ) couldn't fix.
Potential wardrobe malfunctions notwithstanding, I'm no quitter and I was determined to participate in the fun, even if my mom boobs had other plans.
Because we wanted it to be a surprise, we hatched a plan to clandestinely get our dresses to my friend Dana's house. She was hosting her annual New Year's party and what better way to ring in the new year than to wear a wedding dresses. Because duh.
When our husbands were comfortably settled at her basement bar, we brides tiptoed upstairs to the bridal suite — er, my friend Dana's guest room — to get ready for our vows.
Together, we howled with laughter over the styles of our dresses, our ridiculous over the top veils and the fact that half of us could barely squeeze into our dresses. I don't think I've ever laughed harder in my life, and given that we've birthed a few children, there were probably a few drops of pee leaked as well.
We snapped a few pics before we went downstairs to surprise our husbands, and then, it was time for the big reveal.
The six of us gathered up our petticoats and delicately descended the stairs to our waiting grooms. I'd like to say the husbands melted into a cacophony of "Aw, look, it's my beautiful bride!" and "Honey, you haven't changed a bit!" but I'd be lying. The men stared at us open-mouthed and confused as to exactly what was going on. And then they all laughed as hard as we were laughing. Seriously, did I mention how lucky they are to have such fun and funny spouses?
While, yes, our bodies have changed and our dresses have seemingly shrunk, the fact is, we loved every minute of reminiscing with each other about our weddings. Because we all met each other well after we'd all married, wearing our dresses felt like we had attended each other's ceremonies in a way. A wedding do over, if you will.
And, naturally, I made sure my hubby found the garter because tradition is good luck, bitches.
We loved wearing our dresses so much that we are trying to devise ways to wear our dresses more often. We might just put them on and hit our local Starbucks for coffee, who knows? And, I bet a PTA meeting would be a hell of a lot more fun with a cake-cutting while we wear our veils, amiright?
All I know is that I'm happy to wear my veil any chance I get. Because my veil will always fit.
This article was originally published on