8 Fitness and Wellness Brands Offering Free Online Classes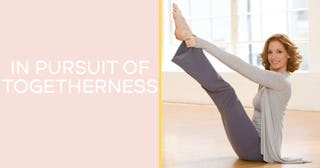 bandier/pilatesology/Instagram
Ever since the World Health Organization (WHO) declared COVID-19 a global pandemic, we've all had to make changes to the way we live, work, and socialize in order to flatten the curve. Many cities and states have closed schools, imposed curfews, and ordered all non-essential businesses and gyms to close.
The temporary restrictions make sense. We must sacrifice "normal" for a while in order to flatten the curve—to save our elderly neighbor or immunocompromised colleague, and also to save the healthcare system from collapsing. But even though we may understand the reasons behind the restrictions, and agree with those reasons, we are allowed to miss normal. We're allowed to grieve our old routines. And we're allowed to seek out that sense of normalcy and comfort wherever we can.
In the worst times of my life, I have turned to exercise as a way to reset my body and mind, and turned to movement as a way to tune out the static of the outside world in order to focus on nothing but my breath, on myself. I have used exercise as a way to remind myself that I am stronger than I give myself credit for. And in these uncertain times, I need exercise now as much as ever.
RELATED: 10 Exercise Routines For Seniors That Improve Strength And Balance
And I know I'm not alone. There's a reason that a video of a fitness instructor in Seville, Spain went viral as people joined in from their balconies to participate in his workout.
But not all of us live within sight of a fitness instructor, and with the closing of gyms and fitness studios, finding the time and space and motivation for that movement is difficult.
Cue online fitness classes. A number of fitness studios and brands have stepped up to fill the hole left behind when the brick and mortar fitness classes had to close their doors.
From your local Pilates studio to national franchises, fitness instructors across the country are finding a way to keep clients engaged and moving…and not necessarily paying.
The brand known for bringing the spin studio to your home is offering a 90-day free trial of their app—no bike required. The app offers something a mix of running, strength, toning, cycling, yoga, and meditation workouts.
Committed to bringing accessible and affordable Pilates to everyone and featuring some of the best Pilates teachers in the world, Pilatesology is offering free mat classes—no apparatus required.
https://www.instagram.com/p/B6_bkTZHgcJ/?utm_source=ig_web_copy_link
This fitness brand is offering workouts and wellness sessions with their top ambassadors for free through Instagram Live seven days a week.
A fitness brand committed to keeping us connected with at-home workouts and meditations, which can be found on their Instagram Live.
A lifestyle media brand dedicated to wellness is offering community classes, everything from workouts, meditations, and discussions with wellness experts on their Instagram Live.
Tune in to Facebook live for free workouts at 7 p.m. from this gym, which has always been committed to creating a space for you to do your own thing without being judged.
Popsugar is offering hundreds of free workouts on its new app, Active by POPSUGAR, or find their workouts on YouTube.
YMCA 360 is a new, online program that gives members and non-members access to some of the Y's most popular group classes, like Boot Camp, Barre, Yoga and low impact programs for seniors. Find the on-demand classes at YMCA360.org or on YouTube.
And while these are all great options to keep you moving as we practice social distancing, don't forget to support local businesses. Check with your local Pilates or yoga studio—they may be offering live stream classes or personalized small group or instruction via Zoom.
We're settling into a temporary new normal. We're sacrificing routine for the greater good. But that doesn't mean we can't try to find a little routine in the routine-less, find a reason to breathe just a little deeper.
Information about COVID-19 is rapidly changing, and Scary Mommy is committed to providing the most recent data in our coverage. With news being updated so frequently, some of the information in this story may have changed after publication. For this reason, we are encouraging readers to use online resources from local public health departments, the Centers for Disease Control, and the World Health Organization to remain as informed as possible.
This article was originally published on