Wendy Williams Slams Ashley Graham For Changing Her Baby's Diaper At Staples
by Leah Groth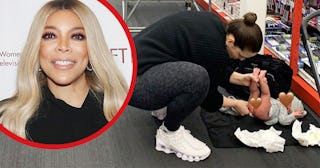 Lars Niki/Getty and Ashley Graham/Instagram
On Thursday's episode of her talk show, Wendy Williams criticized model Ashley Graham for changing her infant son's dirty diaper in a public place
Ashley Graham's total transparency about everything from stretch marks to postpartum diapers has made her one of the most beloved celebrities on social media. Since becoming a mom, the supermodel is doing her part in normalizing the not-so Pintersty parts of motherhood — like being forced to pump milk in the backseat of an Uber or nursing her baby in a busy cafe. While most of us are thoroughly entertained and can completely relate to Graham's adventures in parenthood, not everyone is a fan — including Wendy Williams. On Thursday's episode of her talk show, she spent time shaming Graham for recently changing baby Isaac's poopy diaper during a shopping trip to Staples.
On Feb. 28, Ashley shared a hilarious photo of herself in the middle of an aisle at Staples, changing a diaper. "Sh💩t just got real!" she captioned it. "First diaper blow up while running errands with no restroom in sight! Thank God I remembered to put the changing mat in the diaper bag!!!"
Most of Graham's followers found her post hilarious and totally related. Because, honestly, if this hasn't happened to you at least once, either you don't have children, or you kept them quarantined in your home until they were out of diapers.
However, Williams did not find it the least bit funny, telling Wendy Williams Show audiences on Thursday that Graham was "being mommy shamed by me." "Personally, I don't want to see this," she explained.
While she agreed that "as a mother, you hate it when you go places and there are no changing tables," she believed that Ashley should have "done something different," — like take her baby out to the car to change him there. Only, Graham lives in New York City where most people get around via Uber or public transportation, so um….
Williams then suggests that Graham was a bad example for other moms.
"Mothers are looking at Ashley like, 'If she can do it, I can do it too.' No the hell you can't," she continued.
She then momsplained that Ashley should have known that her child was pooping and acted proactively.
"If you have a 7-week-old child [at Staples] … you're watching the baby more than you're watching where the Sharpies and the rings of paper and the cartridges for your printer," Williams said. "When you see that baby's face turn purple, you know what they're doing. You leave your whole basket there, you scoop up the baby. This is not cool, and I don't know why we have to know about it on your Instagram."
But she didn't stop there.
"This is not hot. Ashley, I like you. This is not hot. This is sending a bad message. I don't want to see this in the store. I don't, and I'm a mom."
There is no reason, for a mom to crap all over another moms — especially regarding where she is changing a diaper. Because again, most of us have been forced to wipe poop off of our infant's behind in a public place. It's not something any of us is thrilled about, it just happens. By sharing her experience, Graham is certainly not encouraging others to change their baby's diaper in a Staples store. She is simply illustrating that, well, shit happens to all of us.
So let's focus our energy on tackling issues that really matter — you know, like the upcoming election, the coronavirus outbreak, and global warming — and keep issues like diaper-changing on the back-burner.