Whoever Runs Wendy's Twitter Account Is A Damn Comedic Genius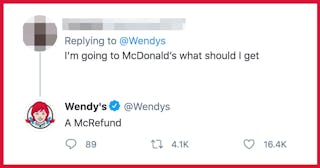 @Wendys/Twitter
I found Wendy's later in life — during my third pregnancy in 2006, to be exact. I had two Baconator meals in one weekend and it was just what the baby in my belly had ordered. Since then, I frequent my local Wendy's so often, they know me by name and realize I'll be getting a large Diet Coke with a Southwest avocado salad, and my son will be getting fries and a Frosty to dip them in. My daughter loves their lemonades, and says their cookies are the best.
However, after seeing their Twitter account, I have even more respect for them. If you haven't seen some of their famous tweets, and you don't follow them on social media, you should. Especially if you like to laugh and can appreciate a brand account that isn't all PollyAnna all the time. Their Twitter slogan is "We like our tweets the same way we like to make our hamburgers: better than anyone expects from a fast food joint." And they don't disappoint.
First, they aren't afraid to call out their competition; go ahead, try them. I dare you. In fact, if you tag them on Twitter, they will probably have either an epic comeback or an epic roast.
In fact, Wendy's is so good, famous companies actually ask for the attention because they like it so much.
I don't know who runs this account but they are quick and witty AF and I hope they are getting paid a lot of money. Obviously they aren't afraid to call out their competition, and it's hilarious. If you are delighted by fresh entertainment from an unexpected source, you've come to the right place.
I have to admit, I love me some McDonald's. But the fact Wendy's isn't afraid to basically say they are so much better — and if you think otherwise you are wrong — makes me like them even more.
And they don't let anyone get away with anything…especially the Golden Arches when they announce something like this. It's like they want Wendy's to come for them.
If you try and go toe to toe with Wendy's Twitter, they will take you down.
However, just because you ask for something and they answer you, doesn't mean you'll get what you want. I mean, how can you not love the sarcasm here?
And they are great at doling out advice for sure.
Even if you don't eat at Wendy's (you should), you have to admit their Twitter account is saucy and entertaining. It's fun seeing people getting roasted and a company with such peppery humor who can also take what gets served to them. They certainly add extra spice to their Twitter account, and we are so here for it.
Follow them and give them a shoutout. But if you do, be prepared for a comeback as icy as their famous Frosty. You don't want beef with Wendy's.
This article was originally published on