What Christmas Means Now That I'm A Parent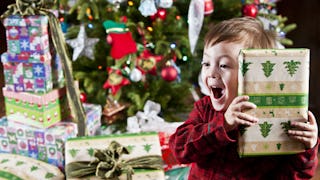 RonTech2000 / Getty Images
Growing up, did your parents ever drop that classic "We don't want anything for Christmas. We just love watching you open your gifts" line? Mine sure did. And I didn't understand. Who doesn't want Christmas presents?! As I wrote out my list that included a pink Huffy bike with tassels and a basket on the front, a Lite Brite and a Teddy Ruxpin, I couldn't fathom a day when I wouldn't have a list. When I would find joy in just watching other people open gifts. When I would say things like, "I don't really want anything."
But year after year, my parents said that. They put us kids first, making sure our Christmas was special and magical and full of Cabbage Patch dolls and Barbies and hair scrunchies and Debbie Gibson cassette tapes. They probably gave each other gifts—I don't really remember. And I know I brought home all sorts of handmade treasures from school that I proudly presented to them on Christmas morning before the macaroni fell off or we lost a google-y eye.
And although I know these handmade treasures brought them joy (they still appear on my parents' tree every year, three decades later), I realize now what they meant when they told me their Christmas wishes.
I know now, because I feel the same way.
The excitement of my childhood Christmases—that feeling of not being able to fall asleep the night before, and creeping down the stairs in the early morning with just enough light from the tree to see all the gifts Santa brought—that rush is still there for me on Christmas morning, even though I'm a 38-year old mom. Except it's not opening my own gifts that I love so much. It's watching my kids.
I get it now, what my parents meant all those years ago. Because now I know what Christmas means once you're a parent.
Christmas as a parent means knowing you'll get three hours of sleep the night before because you were up until 2 a.m. putting together a dollhouse or a train set.
It means feeling a tug on your arm and squeals of excitement at 5 a.m. and getting to say, "Hold on. I need coffee first" like your parents did. It means knowing that although they really did want coffee this was also a stalling tactic to freeze time just a little bit longer, because within 12 minutes, the gifts would all be torn open and that magical first glimpse of what Santa brought would already be a distant memory.
It means a tiny voice saying, "Mommy! Santa came!", the sound of little feet on the stairs, and that first gasp of delight as they turn the corner.
It's knowing that the big one in the corner is the Little Live Pet my daughter has been talking about since January, and watching her face when she opens it.
It's waiting in anticipation for my son to spot the hockey stick standing up in the corner of the room with a red bow.
It's seeing their joy as they search for their names on the boxes and gift bags under the tree, picking each up, taking a split second to guess what it is, and then tearing it open.
It's hearing them say to their little brother, "This one has your name on it!" and handing it over, only to immediately resume the search.
It's hearing your child say, "This is exactly the one I wanted!" and whispering to yourself, "I know, baby girl. I know."
It's stealing a glance and a wink at your partner across the room as you another take a sip of coffee because you know Christmas was a success.
And years ago, as a new mom of babies and toddlers who didn't yet understand this holiday, I still didn't truly know what my parents meant. But once your first child turns three or four and has their first "real" present-opening Christmas morning, once they actually comprehend who Santa is, and send him that first precious wishlist, written in crayon, with letters like "s" and "b" written backwards, that's when you know why your parents said what they did.
So yeah, as a mom, I still make my wish list. Mine usually includes several sweatshirts, yoga pants and leggings, and a new travel coffee mug, because my life is just that exciting. There's always something special for me that I didn't know was coming, like a pretty picture frame or pair of fuzzy socks, and there's almost always a Starbucks gift card in my stocking.
But truly, my favorite part of Christmas is seeing my kids' faces on that magical Christmas morning. Rather than writing out my own list, I'd much rather find the book about horses my daughter so desperately wants, or score an awesome new baseball bat for my son. And after we finally get the last one to sleep on Christmas Eve, my husband and I can wrap whatever is left, assemble what needs to be assembled, and set everything up while snacking on the cookies left for Santa. We drag all of their presents out from under beds, closets, and crawlspaces where we've hid them for months. We talk about which gift will bring each of our kids the most joy, we predict what time they'll get up, and count to make sure everything is there.
And finally, with a few hours to spare, we can creep into bed for a bit of rest before the chaos of the morning hits. But as we ascend up the stairs, I always look back at our tree and I see, in that moment, what my parents saw. And I realize exactly what they meant when they told me what they hoped Santa would bring.
When you hear those first "Mommy, look what Santa brought me!" shouts of joy across the room, and your child holds up a Transformer or My Little Pony or play-dough kit, and then moves on to tear apart another one, you feel it. You hear your parents' voices in your head saying, "Our favorite part of Christmas is watching you open all your gifts." And you whisper to yourself, "I get it now, Mom and Dad." And you know, in that moment, that Santa brought you exactly what you wanted.
This article was originally published on