'Cheugy' Is Gen Z's New Term For Millennials, And We Have Some Words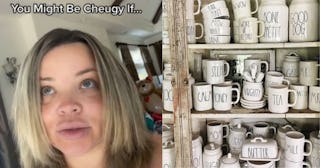 @cheuglife/Instagram
LOL u r so old rn
My fellow older people, stop shaking your fists at center parts and clenching your jaw at the thought of low-rise jeans coming back. We have something new to rally around: "cheugy." (And if you don't know what that word means, then I hate to be the person to tell you, but you've probably fallen into dangerous cheug territory).
The new concept went viral a few weeks ago via TikTok explainer (of course it did) and has since been covered by no less than The Telegraph and The New York Times. Here's the original video posted by armchair etymologist and budding lexicographer Hallie Cain on TikTok:
https://www.tiktok.com/@webkinzwhore143/video/6945562242259684613
In the video, Cain offers her take on the shared qualities and interests of the seemingly out of touch group of people. "I keep seeing videos like this," Cain tells viewers in the video. "The word, my friend, is 'cheugy.'"
The internets (well, presumably Gen-Z) loved it. So much so, the video, which was posted on March 30, has been viewed 677,000 times. Plus, search TikTok for #cheugy, and you find the hashtag been viewed 15.5 million times. That's a lot of strong opinions.
Before we get too into what is and isn't cheugy, let's start with the way you pronounce the word: It's CHEW-gee. Now that we have that settled, the term is how the young folks describe things that are way off-trend, or worse — people who are trying too hard.
Let's play a quick game of F*ck, Marry, Kill with some cheugy tenets, shall we?
https://twitter.com/jetpack/status/1392166074070839301
Tassel earrings are an absolute sign of cheug-ness. F*ck. These are the types of non-offensive earrings you wear to your partner's boss' kid's birthday party and you don't care if you lose one when you slip on the gravel driveway while on the way back to your car.
Rummaging your life's philosophy in the seasonal section of Michael's is probably not how you want to live your life, Karen. Marry.
https://twitter.com/jetpack/status/1392166058858094594
Denim jackets as cheugy? Nah, kill. You'll have to take my denim jacket from me by force.
Cruises? So cheugy. Marry. As the world struggles to fight COVID, the idea of paying good money to float on a petri dish doesn't hold water.
https://twitter.com/jetpack/status/1392166068672737285
According to Gen Z, the zen-like message trend is a definite sign of a cheug. Agreed, marry. So glad we can agree on a couple of things.
Round lip gloss? Cheug. And to that, we say, "kill." These were made to fit in the palm of our hands, and no one can tell me any different.
Cake pops = cheugy. Marry, only because, fundamentally, the design of cake pops are a) overpriced and b) usually have little flavor other than "sweet."
Twitter, naturally, has thoughts about cheug life.
If the thought of becoming cheugy worries you, there's always another option.
"My daughter keeps making fun of me, calling me 'cheugy' and I have no idea what that means," actor Jim Belushi tweeted. "But jokes on her because now I'm going to work that word into my vocabulary until she thinks it's lame."
Sounds like a plan.