If The VSCO Trend Is Confusing You, We're About To Explain It For You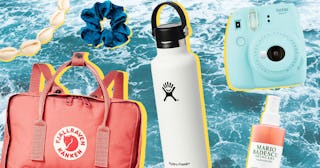 Julia Meslener for Scary Mommy, Amazon and Peter Fogden/Unsplash
For about a year now, my teenage daughter and her friends have liked their T-shirts big, their necks adorned in shells, and they have brought back the scrunchie. I figured it was just what was on trend at the moment when I saw them feverishly stealing my oldest son's T-shirts from his room one night, but I was wrong.
It's so much more than a fashion trend.
If you are like me — a busy mom running around just trying to keep her life in order — you might have had no idea this was more than a fashion trend either. Until you heard the term VSCO girl, that is. Little did I know, this trend known as being a VSCO girl is so much more than mullets and Guess jeans ever were in the '80s.
I've been trying to get my daughter to explain to me just what the hell a VSCO girl is, but when I ask her to please explain, I hear things like,"I don't know," and "Oh, Mom don't you know anything?" roll off her tongue as she plays with her scrunchie on her wrist.
Apparently I don't know anything, so I did some covert research and reconnaissance to better understand this elusive creature known as the VSCO girl. I certainly don't want you to seem as ignorant as I do in front of my teenage girl, so let's do this.
First things first, the title came from VSCO (previously known as VSCO Cam), a photo editing app. It has some pre-set amazeballs filters to keep all the photos you share looking the same. I tried to use it a few years ago and gave up, but apparently the name caught on and became a lifestyle for our young girls.
Second, being a VSCO girl has a lot to do with what you wear — it's easy-breezy and a bit beachy. It's like a secret dress code which includes oversized t-shirts, Birkenstocks or Crocs, shell necklaces, and scrunchies. You also gotta sport Pura Vida bracelets, Fjallraven Kanken backpacks and have at least one pair of Vans in your closet.
And you must own a Hydroflask. Period.
Needless to say, being a VSCO girl might cost you a pretty penny (unless you're an expert at working the thrift store scene, which is also on trend).
https://www.instagram.com/p/B1ZSJZepxtX/
There are ways around it though. You are welcome.
https://www.instagram.com/p/B1thI81psFh/
But VSCO girls aren't just about the look; they're also about the lifestyle. These girls know the importance of staying hydrated and don't go far without their hydro flasks or Burt's Bees Lip balm, either. A trip to Starbucks (preferably in a Jeep) sipping through a metal straw is their fave way to unwind, and you can always count on them to help you get your messy bun on point.
Last summer I can't tell you how many times my teen girl shut off a light saying "save the turtles" or whipped out her metal straw in a restaurant. There's at least something right about a trend that is making our future generation environmentally conscious, right?
We can't forget to go over the VSCO girl language which includes things like "Sksksksk," which is code for "OMG." So, if your teen has responded to a text with those two letters, now you know it wasn't a typo. Though it's super important to note that this trendy slang was actually co-opted from Black and LBGTQ communities. This is something you should discuss with your child because being culturally aware and sensitive is always in style.
And you might have heard her say "and I oop." If you were like me, you probably didn't have the damn energy to ask her what the hell was going on. Turns out this too was co-opted — this time from drag queen, Jasmine Masters, according to Popbuzz.com.
I asked my daughter if she had anything to add about this trend that's not slowing down and she couldn't be reached for comment. In other words, I was met with a eye roll and the loudest, "Oh my God, Mom!" I've ever heard.
I told her what a VSCO mom gives, a VSCO mom can also take away. Perhaps someone can add on to the trend, making it way cool to talk to your parents and not be an asshole when you are asked a question? That would boost shell necklace and Birkenstock sales without a doubt.
While no one is quite sure where the trend came from, I'm pretty sure it started when a 13-year-old raided her mom's closet and found a box filled with her '90s-era oversized Pac Sun T-shirts, scrunchies, and shells necklaces. Our daughters will never give us credit for this, but that's okay — we know the truth.
One thing is for sure though. Whether this trend fades or stays, we all can agree that we want to save the turtles.
This article was originally published on