Don't Lose Touch With Your Good Friends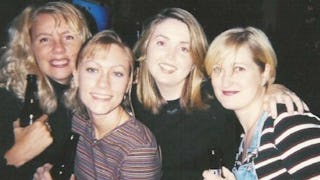 Kathy Soppet
This weekend I heard the most awful news. A good friend of mine, whom I lost touch with, is very ill with brain cancer. She has a wonderful husband and three young kids. My heart goes out to all of them now.
I haven't spoken to her in years, I don't have her new contact information, and I am heartbroken. I am also racked with guilt. I have not been a good friend. I let our relationship drift away, just like the evening tide.
It is so easy to stay in touch nowadays, especially with Facebook and text messaging. But since I made the big move from New York City to Virginia, I have been overwhelmed and chronically ill. I let my busy, messy life drown out my most important friendships. Friends whom I have known since I was 17. I am now 47 and full of regret. I am writing this story so that you don't have to be.
I met my friend when I was 17. She went to high school with my best friend in college. She came up to visit us at SUNY Plattsburgh many times. She was always so much fun, and I always looked forward to her visits. We would drink and dance at the bars, we would sing the words to "Paradise City" and "Shower the People."
I have tears in my eyes as I recall these memories, if I could only show her the way that I feel right now.
She helped me explore my wild side. She helped me laugh when times were rough. She helped me deal with my anxiety. She always knew which diner I could go to for eggs at 3 o'clock in the morning.
After college she showed me the beauty of New York City. Though I grew up there, she made me appreciate it so much more. She absolutely loved the Upper West Side and let me stay with her while I looked for a job. She always knew the best restaurants, museums, and bars to go to. She took me to the opera at Lincoln Center, she went to concerts with me at Madison Square Garden, she gave me culture, and she showed me how to enjoy life.
She is adventurous and loves to travel. She taught me to rollerblade by renting me blades and throwing me into the fire of the great Central Park Loop. She smiled and said, "You can do it," as I desperately tried not to fall, zooming down a big hill trying to avoid moms and their baby carriages. Unbelievably, I did not fall, but if I did, she would have been there to pick me up, just like she always did.
She is a true friend, one you rarely find. She taught me how to live, love, and survive in the big city. She helped me heal after a broken relationship, and helped me celebrate at my wedding brunch. She sent me awesome gifts after the birth of my two children.
I remember her most hanging with me at the Bear Bar in the city, drinking bear juice, and dancing on the bar to George Michael's "Freedom." We sang, "I won't let you down," at the top of our lungs. Little did I know that I would eventually let her down.
I was there for many of her birthdays. I was there at her beautiful wedding at West Point.
I only wish I could be there for her now.
I wish I had kept in touch. I wish I had sent her many cards. I wish I could talk to her now to tell her how much I love her and how much she means to me.
But I may never get that chance, and I will regret it for the rest of my life. Please learn from my mistakes. Please let those you love, especially old friends, know how much they mean to you right now. Don't put it off.
There was this big white dog that lived in our building on East 74th Street in Manhattan, whom I called the Abominable Snow Dog. At first I feared him, but then I loved him, especially when I had a few beers in me. Do not fear what you do not know. Do not be afraid to share your joy and love with others.
That's what my good friend taught me. I am so lucky to have spent so much time with her when I was younger. I am so blessed to know her and her bountiful spirit.
Friends are so special. And whether you have one good friend or many, never take them for granted. Always put effort into these friendships. Always keep in touch.
Be there for the many ups and downs of life. Never let a giant wave of laziness, bitterness, or distance wash away a great friendship.
My friend has the voice of an angel, and when she sings "Ave Maria," she could make the most hardened soul cry: "My lost soul turns to you, and full of repentment, humbles at your feet."
I am so sorry that my friend is so ill. I would give anything to be able to help her. I will try to let her know. I just found her new address and sent her flowers. I hope that she gets them. I hope they make her smile.
She is a bright light in a storm, the laughter in a dull sea, and an amazing youthful memory. James Taylor wrote that love is sunshine. I am so grateful for all of the sunshine my friend brought to my life.
And as I sit here praying like I've never prayed before for my friend and her family, I will hope that she knows how much she means to all of her friends, old and new. Life in the big city would not have been the same without her. My life would not have been the same without her.
I hope that she is surrounded by the same sunshine and love she gave to everyone she knew.
I hope she knows that her light will never diminish, and the memories will never fade away.
Do I love my friend? Would I go back and do things differently if I could?
Absofreakinlutely.
If you enjoyed this article, head over to like our Facebook Page, It's Personal, an all-inclusive space to discuss marriage, divorce, sex, dating, and friendship.
This article was originally published on