The Case For Staying Connected To Our Grandparents (Near And Far)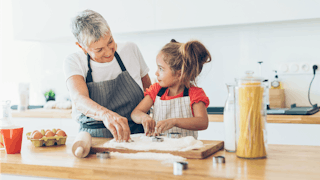 Petar Chernaev /iStock
One of my childhood's greatest tragedies was the fact that both sets of my grandparents lived in different states, both over 1,000 miles away. I think about it now, and I am astonished that 30 years ago, before we had email and Skype, I could stay connected to them and form meaningful relationships that actually influenced who I am today. I recall waiting until after 7 p.m. to call them because that is when the long-distance phone charges were cheaper, being ever-so-mindful of time-zone differences. I loved talking to my grandma, and she loved talking to me.
Now that all of my grandparents are deceased, I find myself really missing those connections. Sometimes I wonder what it would be like to have their wisdom and support now that I am an adult and parent myself. I often think, if only Grandma could see me now!
But I am lucky because I get a lot of interaction with grandparents, just not my own. As a geriatric psychotherapist, I provide counseling to older adults in their homes. Social isolation, depression, and anxiety are predominately the types of issues that arise for this group. Yep, gives us all something to look forward to in our golden years!
I spend a lot of time asking questions. I always ask my clients about their grandkids, if they have any, and about the closeness of their relationships. Some have loving and close relationships with their families, but an overwhelming number do not. Their grandkids may live across town, but they are as unfamiliar to them as if they lived across the ocean.
Yes, there are a number of legitimate reasons why grandparents may not have close relationships with family members, but I can't help but wonder if part of the problem is that as parents we are not fostering the relationships between our kids and our parents well enough. And I am not talking about inviting grandparents to observe their grandchildren playing a sport or singing in a school choir performance. Observation is not connection.
I think about what I would have missed if my parents had been too busy to help me make those long-distance calls or taught me how to write real letters that I sent in the mail, with an actual postage stamp. When I was able to spend time with my grandma during the summer, I never wanted it to end. We'd have strawberry shortcake for dinner, and I'd be engaged in summer reading programs at her local library, helping her with the crossword puzzle every night, and desperately trying to convince her to move across the country to be closer to me.
I think about it now and why, at the end of her life in her 90s, we still hit it off like the best of friends. She was always relevant. And today I can see that maybe she was that way in part because of me. The connection we shared over the 29 years our lives crossed paths allowed her to not just witness my sports events and music performances, but to also really know each other by spending time with one another when we were together and continuing to know each other though writing and calls even when it wasn't so easy. She knew me as a person, and I like to think I knew so much of who she was as a person, not just an old lady, but a dynamic and fascinating individual.
Today, we have all the tools and few excuses not to help our kids and our parents develop relationships that are meaningful. More so than ever, people are segregated by age groups, and interacting less and less with those outside their cohort. That means we aren't learning and sharing with people who have histories and experiences that are rich and valuable. One my greatest joys was being "Mimi's granddaughter," and I want my kids to be able to experience that kind of closeness with my parents. It is good for everyone. It is good for humanity.