Be 100% That Mom By Dressing As A White Claw For Halloween
by Christina Marfice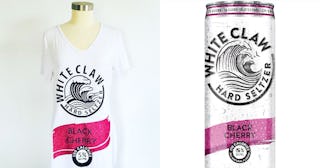 TheGlitterPharm/Etsy and White Claw
Be the life of every Halloween party by going as a human-sized can of White Claw
While Halloween is one of the best holidays on the calendar, it does come with a certain amount of stress. Namely, the stress you get from trying to find a costume that is funny, relevant, and makes you look cute. Well, fam, look no further. Halloween 2019 is solved, because everyone who lived through Summer 2019 is going as White Claw.
Thanks to Etsy seller TheGlitterPharm, you can now get a long T-shirt dress adorned with the logo and can design of your favorite flavor of White Claw. You can dress it up or down. Sex it up with a pair of heels, or treat it like the giant comfy T-shirt it is by wearing it with sneakers. Add accessories. Color your hair. Or just wear the shirt, because that's literally all this costume takes. It's easier than drinking a Claw poolside. The only major struggle left for you this Halloween is deciding what flavor to be — and what flavor to drink while you wear it.
Of course, they have them all:
The possibilities are endless, and it's all up to you. Because, as everyone knows in 2019, ain't no laws when you're drinkin' Claws.
Naturally, so many people jumped on the chance to be their favorite White Claw flavor that that Etsy store has put orders on hold briefly to catch up to the demand. So if you want to order your Claw costume ready-made, you might have to wait a while and keep checking back for orders to open back up. Or, you could DIY this bitch. Stop at Walgreens, grab yourself a 12-pack of Claws (for art reference, naturally), and put Sharpies to T-shirt or shirt dress. Even if you're not artistically inclined, drinking one of your references (or all 12, we're not judging) can only help. Enjoy that low-cal, pleasantly fizzy, tropically flavored goodness and know that you're getting drunk, but like, in a healthier way. Namaste.
And when you roll into all of your Halloween engagements this year, know that you'll automatically have the winning costume of the year. No one can dislike White Claw. It's scientifically impossible. They proved this. We don't really know or understand how, but have you ever heard someone say they don't like the Claw? And if they did, did you trust them? We bet not.
Now, enjoy your preparations for Halloween 2019 knowing that the hardest part of the holiday is out of the way. The toughest decision you have to make now is which flavor you're going to go as, and we have the solution to that, too — gather up a squad and go as a variety pack. Duh.
This article was originally published on