Will Nick Viall Ever Find A Wife? I Don't Know, But You Can Bet Your A*s I'll Be Watching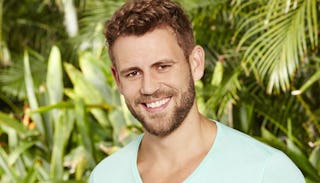 The Bachelor courtesy ABC
I have watched The Bachelor since its first season aired in 2002 and have been hooked ever since. It's a guilty pleasure, and I'm not afraid to admit I schedule my life around its time slot. If you want me to do something with you on Monday nights in the coming weeks, I will as long as it involves you shutting up and watching one person make out with over two dozen others in romantic, unrealistic settings on a big screen. With wine or the drink of your choice, of course. What's not to love? The Bachelor brings the drama, the exotic locations, and lots of fab outfits.
Just in case you haven't heard, Nick Viall is the next bachelor for the hit show which will premiere on Monday, January 2 8/7c on ABC for its 21st season, and I will be watching. I don't care if I am a middle-aged woman with three kids, he is a smoke show, and I have been counting down the days until I can sit braless on my sofa sipping pinot noir with a straw and stare at him.
He is a sensitive man with just enough brawn to make me want to watch him unclog my kitchen sink. He is smart, he is a beautiful writer, and his "I don't give a fuck if you like me, dude, I am here to fall in love" attitude toward the other men dating the same woman he wants, turns me on faster than a dozen donuts.
He has made it very clear during his past appearances on the show he was there for one reason and one reason only: to meet the woman of his dreams (swoon) and bring her home to reproduce and live happily after.
He falls in love and he falls hard, which makes us like him even more. During his first season on the show, he was very clear about his strong feelings for Andi Dorfman, the season 10 Bachelorette, also known as the lucky woman who got to choose between a few dozen sexy men. He was one of the two final men standing, but in the end, she felt she belonged with someone else. Awww. He was heartbroken and wrote her a raw and honest letter where he didn't hold back. Not even a little, and it made women around the world melt and want to do naughty things to him.
During season 11 of the show, he surprised then-Bachelorette Kaitlyn Bristowe by showing up a few episodes in. He was smitten and wanted her to know. And while it ruffled the feathers of all the other men vying for her attention, he gave no fucks and didn't let it interfere with his developing feelings for her. We watched him fall in love for the second time, cheering him on along the way, but alas, Nick came in second for the second time. (I know!)
After taking a shot at Bachelor in Paradise this summer, the roles were reversed as he told the beautiful Jen Saviano he didn't share the strong feelings she had for him as tears streamed down his face (take me now, Nick): "I just feel like you deserve better than me," he told her.
So of course we were all left wondering if he would ever catch a break and find what he was looking for, and the wait may be coming to an end as he will have his pick from more than 25 eligible women this season. He gets to run the show this time and millions will tune in to watch.
Is the fourth time a charm for Mr. Viall? Who knows, but if he doesn't find what he needs in The Bachelor Mansion with a few dozen lovely women, I have some advice for him: Nick, you need to stop looking in places like reality television and tropical islands for a lady and start looking elsewhere. Like my sofa.