A Mickey Mouse + Williams Sonoma Collab Is Here To Make The Holidays Magic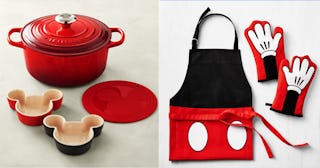 Williams Sonoma
Williams Sonoma has a new Disney kitchen collection, just in time for the holidays (hello, perfect presents!)
Let's be real: It's been a rough year, which means we're all pretty much banking on the holiday season to salvage 2020. And that means every little bit of magic going into this final stretch helps — including Disney magic. So, you'll undoubtedly be pleased to learn that Williams Sonoma has a new Disney collection chock-full of adorable kitchen goodies featuring Mickey, Minnie, and a few of their friends.
RELATED: 80 Disney Trivia Questions For Your Long Drive To Orlando
Better go ahead and get your holiday gift list out, because this collection will help you cross off a bunch of names. If one of them just so happens to be your own, well, you'll get no judgment from us.
You know at least one Disney fanatic, right? In fact, you probably know quite a few, but don't worry; you won't have to take out a second mortgage in order to surprise them with some of the cute items in this collection. There are a few higher-end items, sure, but everything is largely accessible.
Did we mention they're adorable, though? Because they are. There's just something about the idea of making Mickey pancakes that makes us burst with holiday spirit. So does putting the Mickey Mouse silicone pancake mold ($16.95) in our holiday stocking.
We'll obviously also be adding the Minnie apron and oven mitt set ($79.90) and coordinating Mickey apron and oven mitt set ($79.90).
But while we're on the subject of stocking stuffers, you can't ask for much more than this set of Mickey Mouse ice molds ($21.95). Kids will love seeing Mickey bob up and down in their juice, while grown-ups will get a kick out of having a Mickey head in their holiday spirits.
Williams Sonoma's Disney Le Creuset collection is, probably not surprisingly, on the higher end of the price spectrum. Silver lining? They're discounted. The enameled round oven pot's suggested price is $415, but you can score it for just $265. Or you could spring for the Le Creuset Mickey Mouse 5-piece cookware set at $299.95, a savings of almost $40 from the suggested retail price.
If you love the line but are looking for something on the more affordable end, try the Mickey Mouse ramekins set ($49.95).
The holidays wouldn't be the same without the obligatory cookie baking sessions. And who wouldn't love holiday cookies shaped like Mickey and his best pals? This cookie cutter set is a steal ($29.95).
With all of the holiday baking that's sure to happen, it's easy to get parched. While water from any old bottle will do, these Minnie and Mickey water bottles ($29.95 each) are arguably the cutest way to quell your thirst.
This time of year brings an abundance of sweet treats. You'll need something to store all of the excess goodness in, making a Mickey Mouse cookie jar ($69.95) the perfect holiday gift.
Need to mark a few more names off your list? You can shop the entire new Disney collection for Williams Sonoma here.
This article was originally published on