Winter Is Brutal For Skin And Hair, And I've Got The Antidotes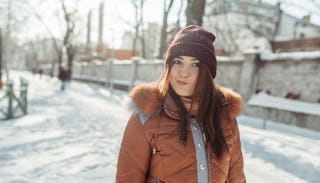 Nikitaat Ermakov / Shutterstock
It's that time of year! My hair is dull. My skin is flaky. I wake up every morning with a sore throat and crusty boogers from blasting the heat all night. That's right! It's winter, sucking moisture from every cell in your body. Lucky for you, this is not my first frozen-hell rodeo. I've got a few tried-and-true tricks up my sleeve to help restore some of that lost moisture and rehydrate your body.
Hair takes a heavy beating in the winter. We are less likely to run around with a wet head in the cold, so heated styling tools are damaging our hair on top of the already drying cold weather. Applying a hair mask a few times a month can help restore moisture and shine. If you're feeling committed, rinse it out with cold water. It will smooth each hair's cuticle, sealing in moisture and giving you an extra boost in shine.
When I'm not washing my hair, I like to add a little oil to the ends when I'm getting ready in the morning. This will help protect against split ends and keep your hair from getting frizzy as it brushes against your sweater or hoodie all day.
Just like your hair, your skin can get pretty dull in the winter. Make sure you're exfoliating to sloth off any dry or dead skin. Adding a moisturizing face mask once a week can help combat dryness and keep your skin looking fresh and hydrated. And speaking of hydration, make sure you're drinking plenty of water.
Don't forget to take care of the rest of your skin too. Your legs and arms especially are going to be drier and ashier than usual. Bring a body oil into the shower and apply a little before you're done. Be careful not to use any on the soles of your feet and not to use too much, or you'll be slipping and sliding all over the place. Once you're finished showering, you can wipe off any excess oil with a towel while you're drying.
Along with your lotion for your hands and feet, taking a moment to pay a little extra attention to your cuticles can save you from some painful splits later on. Cuticles can get dry and cracked in the winter, even if you're using lotions. I like to apply an oil to my nails and the area around them, rubbing it in and reapplying if I've washed my hands a lot that day.
Adding some of these steps into your routine, along with maybe investing in a humidifier and buying cough drops in bulk, should make the winter a little more bearable. And maybe buying a vacation home in the Caribbean to stay in until it's warm enough to not need to chop your way into your car with an ice pick. (Please let me come live at your vacation home.)
Editors may receive samples and/or a share from purchases made via links on this page.
This article was originally published on