Mom Creates Line Of Dolls For Boys, And Everyone Wants One
by Valerie Williams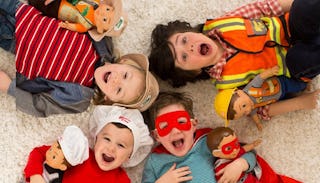 A mom created this incredibly cool line of "dolls" for boys
We've come a long way in recent years toward acceptance of boys playing with dolls and teaching our sons it's OK to show emotion. The idea that boys shouldn't cry is definitely dated, but as one mom discovered, it's still very much felt by children. To that end, she sought to create a line of dolls geared toward boys so they can develop the emotional skills that girls do through play.
According to The Huffington Post, mom Laurel Wider created Wonder Crew, a line of dolls aimed at empowering kids, especially boys who may think dolls are exclusively for girls. Wider was inspired after her preschool son came home telling her "boys aren't supposed to cry" and sought to figure out why he felt that way and what could be done to change that harmful gender stereotype.
Wider says, "I was shocked; he'd been raised in a household and community that was very pro-feelings — I'm a therapist after all! But I soon realized that, of course, these messages and pressures about what it means to be a boy or a man exist everywhere. Of course my son would be affected, too."
In order to learn how playtime affects kids and their emotional and social development, Wider interviewed 150 kids, parents, educators, psychologists and experts in the toy industry. Her findings? "I learned that doll play teaches a wealth of social and emotional skills. Boys are interested in playing with dolls, yet for many parents and some boys there's a stigma attached to this type of play and the word 'doll' itself is a barrier."
Her conclusion makes perfect sense. When you think of the toys most boys are encouraged to play with, that human element is often missing. Trucks, cars, blocks, action figures and light sabers don't lend themselves to the kind of pretend play girls engage in with their dolls where they can practice having conversations and talking about their feelings through the dolls.
That's what motivated Wider to create the Wonder Crew, a line of dolls that combine "the adventure of an action figure with the emotional connection of a favorite stuffed animal." She calls the dolls "crewmates" and after completion of a successful Kickstarter campaign last year, the dolls are now available for sale on her website.
As far as what types of doll you can expect to see, Wider used her research to choose. "We learned about the most popular preschool pretend-play scenarios and then combined those with opportunities to nurture. Why can't a superhero, builder or dino explorer also be a nurturer?"
Wider emphasizes that all kids can play with the crewmates and there are plans for a line of female dolls too. She says, "Our mission is to empower all kids to see themselves as connected, creative, strong individuals with the ability to go anywhere, be anything. And we are doing just that!"
This article was originally published on