'Wonder Woman 1984' Release Date Pushed To Christmas Day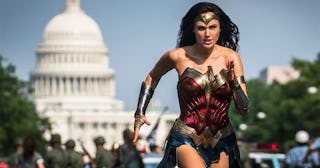 Clay Enos/Warner Bros. Pictures
The highly anticipated 'Wonder Woman' sequel has been pushed once again
Don't expect to watch Wonder Woman 1984 in theaters anytime soon. The blockbuster film originally slated to release last December now won't arrive in theaters until Christmas Day, more than one year after its intended premiere.
"Patty [Jenkins] is an exceptional filmmaker, and with Wonder Woman 1984, she has delivered an incredibly dynamic film that moviegoers of all ages around the world will absolutely love," said Toby Emmerich, Warmer Bros. Motion Picture Group chairman. "We're very proud of the film and look forward to bringing it to audiences for the holidays."
Wonder Woman 1984 has since been postponed a whopping five times and is now scheduled to arrive in theaters on Dec. 25. According to Variety, the Warner Bros. film was first pushed from its original Dec. 13, 2019 to November 2019 (yes, they wanted to move it up a month). Then, it was pushed to the following summer, June 2020. And, due to the impact of COVID-19 on Hollywood and movie theaters, the sequel was delayed three more times: to Aug. 14, then Oct. 2, and now Dec. 25.
"First and foremost, let me say how much Gal [Gadot] and I love all our devoted Wonder Woman fans around the world, and your excitement for WW84 couldn't make us happier or more eager for you to see the movie," Jenkins said. "Because I know how important it is to bring this movie to you on a big screen when all of us can share the experience together, I'm hopeful you won't mind waiting just a little bit longer. With the new date on Christmas Day, we can't wait to spend the holidays with you!"
The decision to postpone the film makes perfect sense, especially following Tenet's recent lackluster premiere over Labor Day weekend: The $200 million-budgeted film made just $20 million in ticket sales. According to sources, the studio wanted to wait until they saw Tenet's performance before making a decision about Wonder Woman, Variety reports. For comparison, Tenet has grossed over $150 million worldwide so far, while the first Wonder Woman made over $800 million in 2017, as Mashable pointed out.
In the meantime, if you haven't watched the recently released second trailer for Wonder Woman 1984 yet, what are you waiting for? It features everyone's favorite SNL alum Kristen Wiig as friend-turned-villain, Barbara Minerva, who now goes by Cheetah.
See you in December, Wonder Woman 1984 — hopefully.
This article was originally published on