Get Ready To Bare It All, Folks: Today Is World Naked Gardening Day!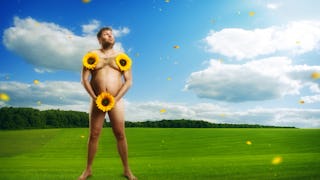 Nomad_Soul / Shutterstock
If you are anxious to show off your most prized fruits and vegetables to the world, then you are in luck because Saturday, May 6, is World Naked Gardening Day, an annual international event celebrated around the world, and it sounds like a great idea to me. Now we can all have a little extra fun while we stop and smell the roses.
According to the World Naked Gardening Day website, this celebration promoted by the Naturist Society is fun for all, "Gardening has a timeless quality, and anyone can do it: young and old, singles or groups, the fit and infirm, urban and rural. An elderly lady in a Manhattan apartment can plant new annuals in her window box. Families can rake leaves in their back yard. Freehikers can pull invasive weeds along their favorite stretch of trail. More daring groups can make rapid clothes-free sorties into public parks to do community-friendly stealth cleanups."
So just get naked. Then march your sweet cheeks outside to dig, cut, or harvest. Whether it be with friends, family, or just you and your hoe — the options are endless. And if the sun is shining, don't forget your extra special places when you are applying sunscreen.
A word of caution: Be sure while you are getting down and dirty with Mother Earth you stay away from the berry bushes, because thorns. Also carrying watermelons in the nude is ill-advised, because heavy lifting plus nakedness equals awkward. Trust me.
Perhaps you enjoy playing in your window boxes and filling them with brightly colored pansies or petunias? Maybe you have always daydreamed about smelling your aromatic herbs while standing stark naked next to your bird feeder in the morning?
Spreading mulch and manure has never been so exhilarating so long as you aren't worried about getting it wedged in your cracks and crevices. I've heard they both double as a very effective exfoliants.
Let it all hang out in your green house while you play with your plump tomatoes, hose down your daisies or sunflowers, fertilize your hydrangea, and prune your trees.
If you're feeling especially bold, and proud of your efforts, post pictures of your tulips on Instagram or Facebook. Sending your naked green-thumb experience to your local paper is also encouraged.
Every time you eat your leafy greens, you are sure to remember the time and energy you put into your healthy plants while wearing your birthday suit. Liberation and freedom taste so sweet.
Just don't forget pest control — that is a must. Also, check yourself for ticks.
Hopefully the rain holds off long enough for you to have some fun in your jungle sans clothes, and make this year's World National Gardening Day a real peach.