I Am Worried About Life After Coronavirus Too
by Elaine Roth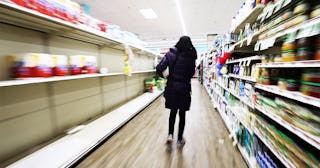 s the coronavirus continues to spread across the United States, stores like Best Market had problems keeping up with the high demand for paper goods leading to empty shelves on March 17, 2020 in Merrick, New York. Al Bello/Getty
We're in a free fall. Or, at least, it feels like we're in a free fall ever since the World Health Organization (WHO) declared COVID-19 a global pandemic.
The stock market has been plummeting by historic numbers that once seemed impossible. The numbers of people testing positive—and dying—of a disease that just months ago didn't exist are soaring to heights that shouldn't be possible. We're conducting meetings through screens and seeing friends over FaceTime. Weddings, sweet sixteens, retirement parties are all canceled. The life we knew seems all but canceled.
Well…not canceled. Hopefully just postponed, waiting for the post-COVID-19 world.
Like most people, I'm living moment-to-moment, half-desperate for the next news alert to tell me what's happening in the outside world, half-dreading the next news alert because each one seems to bring us one step closer to the apocalypse. I'm not sure what tomorrow will look like. We're living in a time during which nothing is promised and our focus—all of our focus—is on public health, on finding ways to support healthcare workers who are giving everything, on coming together to flatten the curve.
But, in between news alerts, in between desperately refreshing my Facebook feed for another morsel of information that might be the key to ridding myself of this storm of uncertainty and anxiety, I wonder about the future.
What will our society look like in the aftermath of this global pandemic? What will be the invisible scars that we bear—as individuals, as families, as a society? What will be the health, social, and economic implications for families, low wage workers, health care workers…the families that have lost someone…the families that hoarded when they should have shared…the families that shared when they could have hoarded?
This week, I watched my children learn and play and find a new normal at home, and I couldn't help but think of the mark this will leave on their childhood, on the childhoods of all the children who are growing up watching the world gripped by fear and uncertainty.
Instead of growing up and asking each other when they first got a cell phone, they'll be asking "what's your coronavirus story?" They'll be asking each other whether they got the virus or knew anyone who did. In a worst-case scenario, they'll be asking whether they knew anyone who succumbed to the virus.
I wonder whether they will feel more connected to their siblings than they would have, if they'll have a different appreciation for school and friendship, and maybe even for not wasting food. If they—and we—will all see our communities in a different light, our neighbors in different way.
The experts might have theories—but they are likely on the frontlines, compulsively working to fix the problem at hand, and tomorrow is a problem for another day.
One possibility is there is no impact. Humans are creatures of habit and perhaps, after the last patient is healed, after the last roll of toilet paper is restocked, we will struggle through another great recession in the short term, and then things will go back to normal—to the way they were. We'll shop, we'll travel, we'll argue about minimum wage and border closings and whether teachers are paid enough. We'll forget that we once fought on the same side against an invisible monster.
Or maybe the exact opposite will happen. Maybe this will impact us so greatly that what was once normal will seem suddenly bizarre. It's possible. Just a few days into a world in which "social distance" became a key phrase, I flinched while watching a Netflix show with my kids when two characters hugged in a school hallway—my first instinct was already to tell those two characters to pull away, to warn them not to be so close to someone else.
In an interview from early March, Li Edelkoort, a trend forecaster, suggested that "[t]he impact of the outbreak will force us into slowing down the pace, refusing to take planes, working from our homes, entertaining only amongst close friends or family, learning to become self-sufficient and mindful." She believes we've all long known that human behavior—the way we live, travel, consume—had to change in order for the species to survive and this virus might be the reason those changes happen—because the choice to no longer live the lives we once lived will be out of our hands, at least at first.
She's not wrong. With factories shut down and workers ailing, it's inevitable that there will be a disruption in the supply chain, and as a result, disruption in life.
But I'm not sure I support her theory—or, more accurately, that I want to support her theory. While I believe in the need for drastic change—because the very real threat of climate change keeps me up at night—and I agree that the disruption in supply chain might signal an end to a certain lifestyle in favor of another one, I don't want our world to change because people got sick, because they died, because we were too ill to produce and consume. I don't want panic and fear and the inevitable devastating loss of life to be the impetus for change. That seems too bleak.
What will society look like in the aftermath of COVID-19? I don't know, but in the moments between checking for alerts and updating my Facebook feed, in the moments before the sun rises on another sleepless night, I have to hope there's a middle ground I haven't imagined between the two scenarios above.
I have to hope the scars we're all left with won't be forever raw and jagged but neither will they be forgotten completely. That our behavior changes, not because we were afraid or because we crumbled as a society, but because we banded together and found a way forward.
What I hope is that maybe we'll care less about the material things and more about our relationships, more about paid sick leave and access to health care, because we realize that those concerns impact us all. Maybe we'll value the neighbor who offered help and the nurse who left her child with others in order to save a stranger, and we'll remember them the next time we're called to choose kindness over selfishness.
Maybe there will always be a sense of togetherness…because we all did this thing together to try to save the most vulnerable of us all, to try to save each other.
Information about COVID-19 is rapidly changing, and Scary Mommy is committed to providing the most recent data in our coverage. With news being updated so frequently, some of the information in this story may have changed after publication. For this reason, we are encouraging readers to use online resources from local public health departments, the Centers for Disease Control, and the World Health Organization to remain as informed as possible.
This article was originally published on