These Yoga Pants With A Gun Pocket Are A Thing No One Asked For, Ever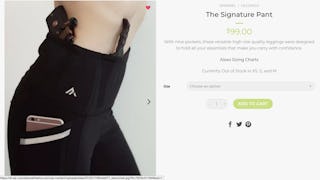 Image via Alexo
You can pack heat in these leggings, and Tomi Lahren is going to risk her life to model them for us
Most everyone agrees that yoga pants are comfortable and flattering and pretty perfect for everything from a jog around the neighborhood to some sun salutations. But don't you think that most athletic leggings are missing something? Like a practical place to stuff your deadly handgun while you exercise?
Wait, what?
The crack marketing team at Alexo Athletica sure thought so. They put their heads together and came up with the $99 Signature Pant and the $84 Carry Crop: both equipped with pockets to carry your, "key, card, flashlight, mace, knife, or firearm."
Okay — they were making tons of sense until they got to knife. And then they REALLY jumped the shark with firearm. While there might have been a hole in the market for these, maybe that's a hole that didn't need filling? I mean, what do I know, a woman who's never wanted to stuff a gun into my yoga pants.
Here's a look into Alexo's "Carry with Confidence" campaign:
Did that woman just pull a water gun out of her leggings and shoot a child? Yes. Yes she did.
Sure, yoga pants could use a few subtle pockets–somewhere to slip a house key or a nice place on the waist to secure your phone. Hell, maybe someone wants an extra little pocket to carry around some raw almonds or a locket with a picture of their long lost love. But do you really need a gun in your yoga pants?
Yes, the person snoring in savasana can get super annoying. And yes, everyone loves accessories. But no, you don't need a gun in your yoga pants. And no, that's not what Warrior pose means.
Especially on the heels of the Parkland school shooting and mass protests across the country calling for more responsible gun laws, you do not need a gun in your yoga pants.
Even if there was a terrible war, and you needed a gun to protect yourself and your family from the daily chaos of survival–even then–firearm experts don't recommend you stuff a gun in your yoga pants. There are many, many, many more ways to responsibly carry a gun, even in an apocalyptic situation.
As if all of this wasn't dumb enough already, conservative political commentator and Fox News contributor Tomi Lahren hopped on Instagram to model the pants complete with a weapon cozied up near her special place.
She wrote, "Live. Speak. Stand. Run."
To which we might add: Holster! Holster! Holster! Holster!
Also: there's just no way you can do downward dog like that.
Even gun enthusiasts weren't having Lahren's fashion-forward heat-packing activewear — because despite what you might have seen in action movies, you never ever put a gun in your pants without a holster. Not unless you want to risk badly hurting yourself or someone else.
But maybe no one said it better than Noah Kinsey:
And just in case you want to get even more baffled and worried for the future of the human race, you can check out Alexo's Instagram account for more inspiration for how to "stay safe and stylish." Like these women, wearing their gun leggings to the shooting range, where they're more than likely breaking shooting range safety rules:
https://www.instagram.com/p/BglmIhOBJIu/?taken-by=alexoathletica
And in case you have any amount of faith left in humanity after all of that, you should know that Alexo is already out of their gun-toting leggings in extra small, small, and medium.
This article was originally published on