Some Young Women Are Proudly Going Gray
by Wendy Wisner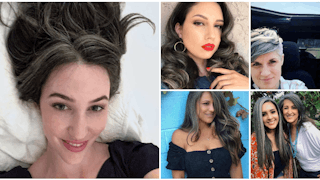 Images via @grombre / IG
When Martha Truslow Smith, a graphic designer from North Carolina, decided to "go gray" at just 24 years old and chronicle her adventures on Instagram, she had no idea what a gushing show of support she would get – nor how many other young women would want to share their own inspiring stories and pics. Truslow Smith started her Instagram account, Grombre, in July 2016 with a simple mission. She wanted to make the choice to "go gray" as a younger woman more acceptable.
At first, she started this for herself more than anyone else. Truslow Smith had found her first gray hair at 14 years old, and knew that genetically, she was predisposed to going gray early. For many years, though, she diligently dyed her grays away.
All that changed three years ago, when she ditched the dye, and started Grombre.
"I was scared to be in my early twenties without the dye I 'knew' I needed in order to be accepted," Truslow Smith shared with Scary Mommy. "I knew that if I was going to grow my natural hair out, I needed a substantial resource, something that expressed the vulnerability I felt on the daily, something that was grounded in the realities of the obstacles I knew were ahead, and most of all: something that would encourage me to pursue the crazy path I felt so called to walk."
Her page quickly took off, and has amassed over 9,000 enthusiastic followers, sharing stunning pictures of their grays, with empowering and gratifying notes of encouragement for their fellow silver-haired beauties.
To put it bluntly, these woman are drop-dead gorgeous, and not despite their grays, but because of them. Whether or not going gray is the right choice for you, if you scour the Grombre page, you will definitely be dazzled by how these women own their grays, their selves, and their beauty. And empowerment is exactly what this movement is about.
"There is nothing quite like watching a follower begin her Grombre journey with (understandable) fear, watch her stick with it, and finally see her discover that moment where she ABSOLUTELY LOVES herself in this whole new way she never knew she could," said Truslow Smith.
Of course, Grombre doesn't knock the choice to go ahead and dye your grays away. That's a perfectly acceptable and awesome choice, too. It's all about doing what works for you, believes Truslow Smith.
"If the idea of cracking open a new bottle of dye, or regularly visiting your hair stylist is something you look forward to, is something that makes you feel beautiful, loved, upgraded- girl, I say keep going," she said. "There is no shame in doing what makes you feel loved within the bounds of your health and means."
But what Truslow Smith is focused on are the women who are considering going natural, and are just too bogged down by fear or shame to do it. She wants these women to know that there is space for their unabashed beauty in this world – and that if they want to make the leap, they should dive right in.
"If the thought of dying your hair feels like a ball-and-chain, feels like a 'necessity,' or even shameful — I implore you to ask yourself: 'WHY? And 'Does it have to be this way?'" she said.
Obviously, the decision to "go gray" is a very personal one, and there are no cut and dry answers as to whether you should do it or not. Most of us start to think about this in our 30s or 40s, when we begin to spout the majority of our gray hairs. But others of us start to gray much earlier – and these might be factors as to when we begin dying our hair.
"People usually notice their first grays in their early 30s," trichologist Anabel Kingsley of the London hair clinic Philip Kingsley, told Refinery 29. Kingsley said that, for most of us, about half of our hair will be totally white by our 50s.
But for some people, that transformation happens on a much earlier timetable. Such was the case for Truslow Smith and many of the badass women who share their pics on the daily over at Grombre. And going gray at such an early age is a revolutionary decision indeed.
These women share not only their triumphs, but their honest struggles as young women who have a different look than others, and are sometimes met with harsh judgment. The community they find at Grombre makes up for that.
Truslow Smith is awed every day by the women "who reach out and encourage one another in the comments," and who help each other through difficult feelings and situations. "They inspire me every single day," Truslow Smith said of her Instagram followers.
However you feel about "going gray," I guarantee that these women will inspire you too. So head on over and check them out. And if you are rocking the silver-haired look yourself, go ahead and share a pic with these lovely gals. You won't regret it.
This article was originally published on