Comedian's Advice For Raising Kids With Special Needs Goes Viral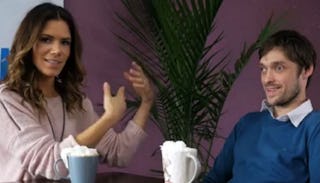 image via Facebook/TruthBombMom
Speechless writer Zach Anner has some great advice for parents
Parenting is challenging in all its forms, but raising children who with special needs can present some challenges that are hard to prepare for. Thankfully, there are people out there willing to share their advice, and their unique perspectives, to the rest of us.
It also helps when those people are funny.
Popular Mom blogger Kristina Kuzmic recently sat down with her friend Zach Anner, a comedian and writer for the ABC show Speechless. Anner also happens to have cerebral palsy, and he uses a wheelchair. Zach has a lot of helpful, hilarious advice for parents raising children with challenges similar to his own, and he shared it with Kristina, and all of us, on Facebook.
In the video, Kristina and Zach, who have been friends for many years, sit down to chat about the challenges of raising children with special needs, and Zach immediately provides his bonafides as someone worth listening to: "First of all, I know nothing." Ha! Sometimes the only "experts" worth listening to are the ones that admit they don't have the answers.
He quickly provides four really astute pieces of advice worth listening to.
"Be okay with watching your kids struggle." Which is good advice for all parents, who need to be comfortable with letting their kids fail, because that's how they learn to succeed.
"Raise your kids to be considerate, thoughtful adults who aren't always the center of attention." Zach explains his thoughts on how growing up with special needs can inspire a "weird kind of narcissism" for kids who are used to having people cater to them because of their challenges. He says it's important to fight that tendency.
"Be careful about accidentally patronizing your kid." Don't give your kids credit for things they haven't done, instead, find things they can do and acknowledge those. "Let your kid's passions lead, rather than the disability," Zach emphasizes, in order to help separate the child's identity from their disability.
"Treat your teenager with a disability like a teenager." When you're raising a child with a disability, the lines of intimacy can become blurred, and Zach stresses the importance of preparing your kid for the world, and that means allowing for independence and privacy.
While Kristina and Zach were discussing advice for parents of children with disabilities, it's immediately clear that Zach's insights are applicable to all children.
Let them fail, raise good humans, don't praise them for no reason, prepare them for the real world. In just four minutes, Zach provides a boatload of effective for parents everywhere, and he does it with a variety of hilarious jokes.
At the end of the video, Zach has some praise for his own mother, saying "she's the only reason [he has] anything of value to say," and based on her accomplished son and his thoughtful perspective, I believe him.