Zack And Kelly Are BACK In New 'Saved By The Bell' Trailer
by Cassandra Stone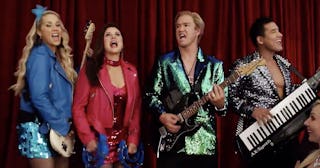 Peacock/Youtube
Why yes there is a rendition of Zack Attack's 'Friends Forever' in this new 'Saved by the Bell' trailer
If you're on the hunt for a little spark of joy today (and honestly, aren't we all), please look no further than the latest trailer for the Saved by the Bell reboot. It features Zack Morris, Kelly Morris (neé Kapowski), and — yes, no joke — a reunion of Zack Attack singing "Friends Forever." So yeah, if you need a serotonin jolt like 99.9% of America today, this is where it's at.
While a few "teaser" trailers have been released for the upcoming series, this is the first full-length trailer. Plus we now have a release date for streaming on NBC's Peacock platform — November 25! Just in time to put on our turkey-eating pants and curl up for this beautiful binge of nostalgia.
The reboot's premise centers around a new group of students at Bayside High, including kids from working-class families transferred to the school as part of Zack Morris's plan as governor to send lower-income students to the state's highest-performing schools. And, of course, features the original cast — Slater, Jessie, Kelly, and Governor Zack himself. Even Max of, yes, The Max, is back to greet students who are far more self-aware than their Bayside predecessors.
Honestly, the show looks really well done and a fun treat for parents who loved the OG version and kids who will relate to the reboot.
News of a reboot of the iconic show came last fall from Elizabeth Berkley and Mario Lopez, leaving us all wondering if the rest of the beloved cast (minus Dustin Diamond, For Reasons) would be returning for the new show. Cast members have shared sneak peeks and cute photos from shooting the series pre-pandemic (sigh, those were the days).
During a year when new television shows and movies have been super limited (along with that sense of joy we were talking about earlier), it'll be awesome to watch our old Bayside Tiger favorites in their new show next month.