15 Black Influencers You Need To Be Following Right Now on Instagram
by Lindsay Wolf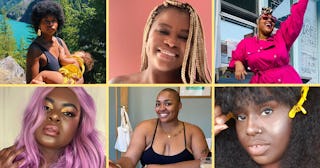 moonandcheeze, ihartericka, lvernon2000, sassy_latte, curvynyom and funkychunkyy on Instagram
I wish I could start this off with just a simple intro about the amazingness of the human beings I'm about to share with you. But unfortunately, Donald Trump keeps trying to ruin any chance we get to collectively celebrate, respect, and uplift Black people. It could not be more timely to be dropping this list in the midst of what I can only call our president's total racist unraveling. Not only is he basically what happens when white male privilege joins forces with toxic masculinity, but now he's taken his hateful influence even further down the narcissistic rabbit hole.
RELATED: 21 Black-Owned Brands And Businesses You Can Support Now — And Always
Last Thursday, he went on record to say that teaching our children about racial inequality is "unpatriotic" and a form of "child abuse." He called our country's already piss-poor educational focus on slavery, the historic genocide of Black families, and years of segregation "toxic propaganda," and he even took aim at the New York Times Pulitzer Prize-winning "1619 Project."
Trump is the worst of the worst. He fucking sucks, and IDGAF if you want to "agree to disagree" with me at this point. So instead of giving any more attention to this human dumpster fire, I'm going to share fifteen of the most fabulous Black influencers on social media right now. Some are cisgendered women, some are fat self-love activists, some are LGBTQ+ individuals, and all are deserving of your immediate attention. The empowering visibility of game-changers like the ones below is one of the best tools we have to dismantle the white supremacist delusion that Donald Trump is hell bent on perpetuating.
If you don't already follow these extraordinary human beings, you better start today.
Sassy Latte is, hands down, one of my favorite Black educators around. A queer, non-binary person of color with a penchant for racial justice and creating vital discussions on body politics, this fierce mama bear also has a kick-ass Patreon page packed to the brim with educational writing and art that will have you thanking your lucky stars to have found them. I've been a subscriber of Latte's monthly Patreon content for the past two months, and it's been the radical wake up call I've needed as a white woman who is learning how to be an authentic Black ally.
https://www.instagram.com/p/CFWYt0EgIsc/
This plus-sized model has set Instagram ablaze by igniting a movement to change its racist, fatphobic, and sexist posting guidelines. After her images were removed at a time when thousands of similar photos with thin, white women are floating around the app, Nicholas-Williams started the hashtag "iwanttoseenyome" and inspired supporters to create a petition specifically designed to demand changes to their discriminatory practices. The social platform is now reviewing its policies, with further pressure still on them from heavy hitters like Munroe Bergdorf and Jameela Jamil who cosigned an open letter to Instagram about their censorship of Black plus-sized women.
This phenomenal Black writer, birth worker, and digital creator is a necessary force to be reckoned with thanks to her powerful content, fierce humor, and ability to drop undeniable truths about white supremacy. She's also a new mom who keeps it refreshingly real about postpartum struggles, especially in the realm of Black motherhood and social justice. As if that weren't enough, Rose busts her ass weekly to share GoFundMe pages in her stories of Black individuals and families, with the constant reminder that white folks should and can be paying citizen reparations on an individual level. Be advised that this educator keeps her Instagram page set to private, so allow her the due time to approve new followers. And while you're at it, go to the link in her bio and sign up to make a monthly contribution to support her work, because she more than deserves it.
I have been following Sonya Renee Taylor ever since learning about her book on radical self-love, The Body Is Not An Apology. She's a Black, queer, neurodiverse activist, writer, and artist who is dismantling fatphobia, racism, bigotry, and disability stigma one fabulous post at a time. Her regular IGTV videos are a welcome dose of reality, as is her life-affirming presence on social media.
The celebration of Black moms is something that shouldn't have to be considered revolutionary. And with Muva Epiphany's account Black Women Birthing, we are given the opportunity to see that poignant truth come to fruition. With its heart-bursting photos of birth and new motherhood, Epiphany has created a magical community that aims to boost the positive visibility of Black moms and normalize all of the captivating phases of bringing their babies into this world.
I'm about halfway through Leah Vernon's stunning debut book Unashamed, and I'm already head over heels in love. The plus-size Hijabi model and public speaker is taking the world by storm with her hilarious, candid, and unapologetic content. And I guarantee that you won't be able to pick just one favorite as you scroll through the show-stopping images and captions on her page.
https://www.instagram.com/p/CEo_9CNgzy_/
For your daily dose of sunshine, look no further than Astra Marie. This social media influencer never disappoints with bright, popping visuals of her magical fat body, notable style, and words that will stick with you long after you read them. Shower her with love, go follow the shit out of her, and give her even more reasons to just keep sharing her fabulous self with the rest of us.
https://www.instagram.com/p/B_8dfaCHIJh/
I honestly feel like the yoga party didn't officially begin until Jessamyn Stanley entered the room. This Black, queer, and plus-sized yogi, author, cannabis justice activist, and podcast host will have you immediately diving into downward dog with self-loving abandon. If you check out Stanley's body-inclusive online yoga classes at The Underbelly, you can sign up for a free two-week trial — and speaking from personal experience, you won't be disappointed.
Stop what you're doing and go follow this page now. I mean it. If you haven't yet, go get your butt over to Jari Jones's account and show her the love she so deserves, because your life will be better for having been introduced to her. A Black trans model and actress who lights up every single photograph she's in, Jones is exactly what the world needs right now. And I'm clearly not the only one who agrees, since Calvin Klein just plastered her magnificent image all over a Manhattan billboard this past summer for their Pride campaign.
Unless you've been living under a social media rock, you've probably seen this captivating post going around. As a cigar-smoking Black woman sits back and watches a "MAGA" hat go up in flames, we are all transported to a collective mood that is so fucking relevant for 2020. Since the "about me" section on her website is light-years more eloquent than anything I could've dreamed up, I'm going to share it with you now. "Talamieka Brice is an award-winning artist, photographer and visual storyteller," her website reads. "She is inspired by her hometown of Kilmichael, Miss, Michelangelo, and Maya Angelou. With her camera, wicked design skills, and the point of view of a small-town brown girl, she is a bit of a Kil-Michel-Angelou, if you will. Brice is the wife of a veteran, mother to two children Honor and Love, and enemy of the patriarchy."
I am so here for all of this, Talamieka.
This spoken word poet and Black History teacher is also a racial justice queen who delivers bite-sized doses of weekly truth-bombs through her "Parkin Lot Pimpin" IGTV series. Want to learn a whole fucking lot about racism and the intersections of social justice in under three minutes? Then go to her page and start your education.
Hart is a Black, queer, non-binary femme who manages to juggle many hats and make the process look seamless. Being a sexuality educator, racial and social justice activist, writer, model, podcast host, and breast cancer survivor would be enough gigs for anyone to not have room left to add Instagram influencer into the mix. And yet, Hart provides regular content for the rest of us that is as thoughtful as it is thought-provoking.
https://www.instagram.com/p/CEdHSTMlxOq/
A lactation activist and racial equity strategist on a groundbreaking mission, Felisha Floyd is setting out to unapologetically decolonize breastfeeding in the Black community. Her powerful content showcasing Black mothers is long past overdue for some major recognization and reverence, so please be sure to honor the boundaries of this page when you become a follower. Floyd rightfully requests that non-Black individuals act as respectful guests of her community by sitting back, listening, and learning before taking any action of support. And isn't that how all white allies should be showing up for Black folks?
https://www.instagram.com/p/CEXR5VpBxxm/
Stephanie Yeboah is quite literally my happy place. This Black author, self-love content creator, and freelance journalist provides images and words that will have you wanting to belt out her praises on the tops of high mountain peaks. She's the most refreshing thing to hit the 'gram since sliced bread, and her posts will make you rethink everything you've been conditioned to believe about our racist and fatphobic beauty standards.
https://www.instagram.com/p/CDzqnA9l6sU/
All you need to know about this brilliant photographer, mother, and social media influencer is right in the personal statement on her website. "Black Motherhood has so many beautiful layers and complexities. Explore them with me," McDaniel writes. "Black Motherhood carries chains that yearn to be broken. Break them with me. Black Motherhood Matters. Amplify it with me."
This article was originally published on