50 Things You Do If You're Totally Extra About Your Love Of Fall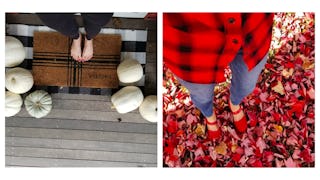 KATIEBINGHAMSMITH
Can you feel it? That nip in the air early in the morning that tells you the seasons are about to turn? That's right, folks. Fall is coming.
I know some are in denial about that fact, but I am not one of those people. My whole life I've been a bit extra about fall. Truth be told, I've had my fall scents burning since mid-August, and I'm not ashamed to admit it.
We feel like we're getting a fresh start on life as the leaves change, school starts, and pumpkin spice everything makes its way onto the shelves of every store and into our hearts. It's a truly magical time.
For those of us who celebrate autumn hard, you can probably find us doing some or all of the following:
1. Visiting the apple orchard and getting perfectly posed pictures of the kiddos for Instagram in matching sweaters.
2. Holding a harvest dinner with everything from a roast chicken to apple pie to roasted pumpkin seed pesto.
3. Putting candy corn in a bowl for guests. And in cookies. And melting some in your coffee.
4. Raking a big ass pile of leaves and jumping in them — cue another Instagram photo.
5. Making everything apple — apple pie, applesauce, apple dumplings, apple crisp.
6. Buying every color of opaque tights.
7. Stocking up on fall-scented soaps, lotions, candles, and room sprays so your family chokes every time they enter the house.
8. Getting your Martha Stewart on and decorating your house in perfect fall colors.
9. Baking cut-out cookies and decorating them in shades of orange, red, and yellow.
10. Buying all the damn mums.
11. Making the kids matching Halloween costumes since you decided what they'd all be in July.
12. Putting a perfect fall wreath on every door.
13. Stocking your fridge with apple cider and having some simmering on the stove at all times.
14. Visiting the pumpkin patch, taking pumpkins home to carve, and hoping it goes well because you know you'll be doing all the work.
15. Buying the fabric store out of burlap.
16. Making and freezing 16 loaves of pumpkin bread.
17. Stocking up on a shit ton of cinnamon and nutmeg even though you have some leftover from last year.
18. Buying a costume for your pet.
19. Getting really freaking excited about dropping the kids off at school so you can buy a Pumpkin Spice Latte and walk around Target alone.
20. Busting out the boots.
21. Going on a hayride with your family in matching flannel shirts.
22. Getting out the knitting needles to start Christmas projects.
23. Having epic bonfires in the backyard.
24. Going for long bug-free walk in the woods.
25. Stocking up on faux fur throws.
26. Treat yourself to cuddly sweaters in every color with visions of reading by the fire place in said cuddly sweater.
27. Roasting a chicken and making soup in every Crock Pot recipe you have.
28. Adding to your scarf collection.
29. Buying plaid table runners, shorts,underwear, and socks.
30. Loving the fact you don't have to wash your hair because it's beanie season.
31. Collecting acorns around the yard to decorate your home and throw in those perfect wreaths.
32. Talking about your love for autumn so much that people start to hate you.
33. Googling recipes for homemade hot cocoa.
34. Putting flannel sheets on the bed.
35. At the first sign of a cold snap, dressing in corduroys, your favorite scarf, and denim jacket even though you will be sweating your ass off by noon.
36. Putting things like vanilla, cinnamon, cloves, and nutmeg on the stove and simmer all day to get everyone in that fall mood.
37. Pretending wool is not scratchy.
38. Buying seasonal fruits and veggies like squash and pomegranates even if you don't like them.
39. Taking your kids to the corn maze and buying them a candy apple even though no one has ever been able to eat one of those things.
40. Seeking out all the places that sell apple and pumpkin donuts so you can decide who has the best ones.
41. Buying flavored coffees and creamers and wondering why you don't do this all year round.
42. Football!
43. Leaving the windows open to get some of that fall air inside.
44. Taking long rides to go leaf-peeping.
45. Stocking up on new books and relax on the sofa at night during the shorter days.
46. Painting your toenails in shades of orange and brown.
47. Buying bouquets of sunflowers.
48. Packing up your summer clothes willingly.
49. Telling scary stories under a blanket tent with a flash light.
50. Regretting it immediately when your kids can't sleep because you've frightened them to death.
There are many of us who don't mind the days are getting shorter — there are plenty of things to do during this special time of year. So, pass the candy corn and all the pumpkin shit. Slip on your favorite boots and sweater and let's watch the game.
This article was originally published on