'A Star Is Born' Will Return To Theaters -- With 12 Minutes Of New Footage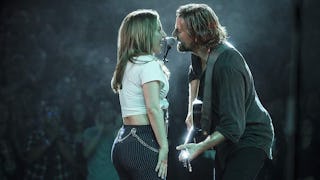 Image via IMDB/Warner Bros. Entertainment
Watch 12 more minutes of amazing singing an chemistry between Lady Gaga and Bradley Cooper
We don't care if we still haven't fully emotionally recovered from the super-intense Oscar performance of "Shallow" from A Star is Born, we're already popping the popcorn for the theatrical re-release of the movie, which was announced by Warner Bros. this week. The re-released version of the Academy Award Best Picture nominee will include 12 minutes of new footage, which includes extended songs, an a cappella version of "Shallow," and a new song.
According to The Hollywood Reporter, the "encore" edition of the release will begin on Friday, March 1, and run for one week on 1,150 screens across North America.
It will contain extended scenes where "Black Eyes" and "Alibi" are performed plus a scene where the two main characters sing the Gaga-penned "Is That Alright?" during the wedding sequence. In addition, we'll see Cooper singing "Too Far Gone" and Cooper and Gaga writing a new song together called "Clover."
And since we're still not tired of it, we also get a new, vocals-only version of Lady Gaga singing "Shallow.
All of the above songs appear on the soundtrack with the exception of "Clover," which will be new to everyone.
A teaser of the new song was released on YouTube following the encore announcement.
"It's something we can both get over / Oh I still believe in love," Gaga sings.
The Cooper takes over: "Time goes by / I'll keep winning, keep losing until I die / Rain falls down / And I'll catch every drop this time around."
Yeah, we will probably definitely try to catch this again, and have another good cry.
The movie was originally released in October and has since made $425 million worldwide at the box office. Last week it was up for eight Academy Awards, including Best Picture, Best Actor, Best Actress, Best Adapted Screenplay, Best Cinematography, and Best Sound Editing. Lady Gaga took home the prize for Best Original Song for her work on "Shallow," bringing her one step closer to achieving an EGOT.
Gaga and Cooper performed a duet of "Shallow" at the Oscars on Sunday night, sitting together at a grand piano, Gaga in a classic black gown and Cooper in a tux. The energy of the performance was one of the highlights of the night, sparking rumors that they must really be in a romantic form of love – especially since Gaga recently ended her engagement with talent agent Christian Carino.
Lady Gaga also gave an inspiring speech about hard work when accepting her first Oscar.
"And if you are at home, and you're sitting on your couch and you're watching this right now, all I have to say is that this is hard work," she said. "I've worked hard for a long time, and it's not about, you know…it's not about winning. But what it's about is not giving up. If you have a dream, fight for it. There's a discipline for passion. And it's not about how many times you get rejected or you fall down or you're beaten up. It's about how many times you stand up and are brave and you keep on going."
The extended version of A Star Is Born opens on Friday.