Adele Talks Co-Parenting After Divorce In First Interviews Since 2016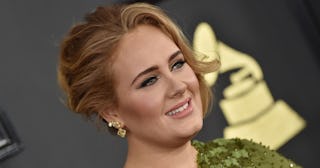 Axelle/Bauer-Griffin/FilmMagic/Getty
Ahead of the release of her forthcoming album, Adele is getting real about what it's like to co-parent after divorce in her first interviews since 2016
At long last, new music from Adele is on the way, and ahead of her forthcoming album release, she's giving her first interviews since 2016, appearing as the November cover star for both Vogue *and* British Vogue. Though the 33-year-old singer has spent much of the past five years largely out of the public eye, she's celebrating her return to music with two deeply candid interviews, opening up about what it's like to co-parent after divorce.
During her chat with the British glossy, the mom-of-one gave insight into what it has been like trying to protect her eight-year-old son, Angelo, as she split from his father, Adele's ex Simon Konecki. Of channeling some of her experiences with divorce into her new music, she says she hopes it will help Angelo treat his future partners well. She wanted to "show Angelo what I expect him to treat his partner like, whether it be a woman or a man or whatever," she says. "After going through a divorce, my requirements are sky-high. There's a very big pair of shoes to fill."
She explains that her relationship "just wasn't right" for her anymore, but trying to explain the situation to Angelo was tough. "My anxiety was so terrible, I'd forget what I had or hadn't said to Angelo about separating… Angelo's just like, 'I don't get it,'" she revealed, adding, "I don't really get it either. There are rules that are made up in society of what happens and doesn't happen in marriage and after marriage, but I'm a very complex person. I've always let him know how I'm feeling from a very young age because I felt quite frazzled as an adult."
Adele told Vogue why she chose to be unfailingly honest with him about the situation before he was 7, adding, "He said to my face, Can you see me? And I was like, Uh, yeah. And he was like, Cause I can't see you. Well, my whole life fell apart in that moment. He knew I wasn't there." She added, "That's when I started sharing with him. If I can reach the reason why I left, which was the pursuit of my own happiness, even though it made Angelo really unhappy — if I can find that happiness and he sees me in that happiness, then maybe I'll be able to forgive myself for it."
"He has so many simple questions for me that I can't answer, because I don't know the answer," she continued. "Like, Why can't we still live together? That's just not what people do when they get divorced. But why not? I'm like, I don't fucking know. That's not what society does. And: Why don't you love my dad anymore? And I'd be like, I do love your dad. I'm just not in love. I can't make that make sense to a nine-year-old."
To help keep Angelo's life as normal as possible, Adele and Konecki live on the same three-house compound in Los Angeles to ensure "nothing changes" for him. She has also leaned on therapy for support, including voice notes of conversations she had with her son on her album — a suggestion given to her by her therapist to help quell her anxiety about talking him through her divorce.
It certainly sounds like her new music is going to be cathartic both for her and for her fans around the globe, and we can't wait to hear what she's got up her sleeve.
This article was originally published on