Alec Baldwin Breaks His Silence About The Tragic 'Rust' Shooting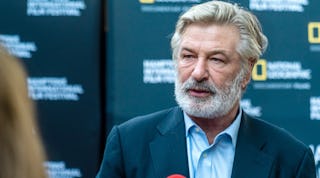 (Mark Sagliocco / Getty Images)
Paparazzi tracked down Alec Baldwin to a small town in Vermont, and the actor spoke out about the death of Halyna Hutchins and guns on set
On October 21, 2021, Alec Baldwin fired what he believed to be a "cold gun," AKA a prop gun with no ammunition, on the set of the independent western Rust. As Baldwin was working out the angle for a shot, he shot the gun, striking cinematographer Halyna Hutchins in the chest with real ammunition. The entire crew panicked and tried to stanch the bleeding as a shocked Baldwin tried to make sense of what happened. Hutchins was pronounced dead hours after the shots were fired. The tragedy happened just days after IATSE and its nearly 60,000 union members threatened a strike due to the low pay and general disregard for crew members' safety on sets.
Baldwin has remained relatively quiet as he and other crew members work with the Santa Fe Sheriff's Department as they investigate the incident.
On Saturday, Oct 30, Baldwin broke his silence and asked camera crews following him what they wanted to know
"I'm not allowed to make any comments because it's an ongoing investigation. I've been ordered by the sheriff's department in Santa Fe not to answer any questions about the investigation, I can't," he said. Appearing exasperated, Baldwin continued, saying "She was my friend. The day I arrived in Santa Fe to start shooting I took her to dinner with Joel the director."
He also shared that he met with Hutchins' husband and son, explaining, "The guy is overwhelmed with grief. There are incidental accidents on film sets from time to time, but nothing like this. This is a one in a trillion episode."
As the paparazzi continued to hound Baldwin, his wife, Hilaria, criticized them for not even recalling Hutchins's name, saying, "Her name is Halyna. If you're spending this much time waiting for us you should know her name."
As paparazzi realized they would not get any information on the ongoing investigation, they pivoted to questions about the use of firearms on set, which Baldwin was a bit more forthcoming about.
"I do know that an ongoing effort to limit the use of firearms on film sets is something I'm extremely interested in. But remember something that I think is important and that is how many bullets have been fired on films and TV shows in the last 75 years. This is America. How many bullets have gone off in movies, nearly all of them without incident."
Baldwin and his wife then ask the paparazzi if they can go. "My kids are crying in the car," Baldwin said, with his wife noting that the paparazzi had been following them and essentially forced them to pull over and answer questions.