Ali Wong Is Every Mom Traveling With Kids And It's Hilarious
by Julie Scagell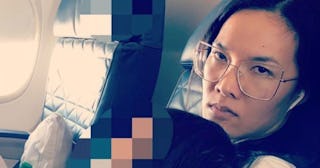 Ali Wong/Instagram
She's clearly enjoying every minute of riding on a plane with two toddlers
If you've ever watched anything actress and comedian, Ali Wong, has been in you know she's possibly one of the funniest women of our time. Her fearless approach on subjects like marriage, childbirth, stereotypes, and motherhood has made her a fan favorite, and her latest Instagram post is as relatable as it is hilarious.
"Flying with kids is extremely easy and refreshing," Wong quipped next to a photo of her traveling. "Especially when they both just want to sit with Mommy, while Daddy is free to eat BBQ sliders and watch Veep."
Of course, her kids look like they're having the time of their lives (and so is her husband, presumably) while she sits uncomfortably with one kid in her lap and the other she's likely unwrapping snacks for every three seconds.
Wong's been crisscrossing the U.S. on her Milk & Honey tour, which landed her in Seattle, Washington this weekend where's she's performing in five sold-out shows. In addition to writing, acting, and her standup tour, she is a mom to two girls, Mari, three, and Nikki, one, with husband Juston Hakuta.
https://www.instagram.com/p/Bz8S1FWgkpL/
Wong has endeared herself to fans in her Netflix stand-up specials Baby Cobra where she was quick to point out how motherhood was affecting her before her daughter, Mari, was even born. "I can already see how a child can take its toll on a marriage because the baby hasn't even come out yet and I am already so resentful towards my husband," Wong says in the special. "So much resentment. Especially when he asks me to do stuff around the house: Hey, can you wash the dishes? NO! Hey, can you water the plants? I AM NOT DOING JACK SHIT ANYMORE, I'M BUSY MAKING AN EYEBALL."
She's also starred in another Netflix stand-up, Hard Knock Wife, and has appeared in shows like American Housewife, Are You There, Chelsea?, Inside Amy Schumer, and Black Box. Her best performance (according to me) has to be alongside friend, Randall Park, in the romantic comedy Always Be My Maybe, which the pair co-wrote.
Wong's been quick to point out the double standards that exist for men and women and admitted during her special Hard Knock Wife that her mom was even fearful as she became more successful it would impact her marriage. "My mom is very concerned [my husband's] going to leave me out of intimidation," she joked. "I had to explain to her that the only kind of man that would leave a woman who makes more money is the kind of man that doesn't like free money."
She told Vanity Fair earlier this year she planned her Milk & Money tour around Mari's school schedule, considering them in every career decision she makes. Her forthcoming book, "Dear Girls" will be a compilation of essays about her "crazy years," written for her daughters.
Here's hoping Wong continues to let us into her life because she is every mother and that's exactly why we love her.