Alicia Silverstone Calls Son 'Example Of Health' Because He's Never Taken Antibiotics
And it's all thanks to his meat-free vegan diet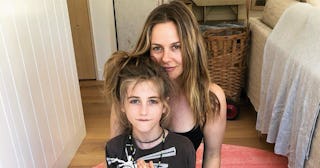 Alicia Silverstone/Instagram
Alicia Silverstone is no stranger to sharing updates on her her 9-year-old son Bear's meat-free vegan diet — and how it's impacted his behavior and health. In an interview with Us Magazine last year, she claimed that, due largely in part to said diet, Clueless actor has "never had to raise her voice" at Bear and that "when your kid feels good, they act well." Well, now, a little more than one year later, Silverstone's now touting Bear as the "example of health" because, thanks to his vegan diet, he's lived an antibiotics-free life.
"He's such an example of health," Silverstone told Entertainment Tonight this week of Bear, whom she shares with ex-husband Christopher Jarecki. "This is a child who is plant-based."
Silverstone went on to say that Bear's never needed antibiotics or medical intervention.
"To never have needed antibiotics in nine years and to never have needed any kind of medical intervention… Most kids have so many ear infections, they're taking medicine all the time. I'm not saying I wouldn't give it to him… I'm saying he doesn't need it," the actress continued.
According to Silverstone, Bear has been sick a whole two times in his short life — and "for, like, a few hours."
"He said, 'Mommy I don't feel good. I'm going to lay down. In his whole life, twice," she said. "He can get a snot nose, but he's still climbing trees. He's just so healthy. I just want to share that with the world. So people can see that a plant-based baby is really healthy… It's not like they're just doing OK. They can do better."
This isn't the first time Silverstone has raved about her son's top-notch health.
In 2018, as the keynote speaker at Good Housekeeping's #RaiseTheGreenBar sustainability summit, Silverstone said Bear has "never had to take medicine in his life."
"He can get sniffles and a runny nose but he's not down, he still goes to school," she added, per People.
Silverstone gave up meat at the age of 21 and she's been an advocate for the diet since. She was not only voted Sexiest Vegetarian Alive in 2004, but she also penned a book all about the benefits of and how to live a more vegan lifestyle, titled The Kind Diet. She later released The Kind Mama in 2014, where in she first revealed, according to Entertainment Tonight, that her son had never needed medical attention.
"When you take plants as your medicine and you use these nourishing miracles to truly get well, everything's easier," she said at the time. "You get to have happy, healthy mommas and babies and when mommy feels good, everybody feels good. And when babies feel good they act really well. They're not uncomfortable and just struggling to process everything that's being done to them. They feel amazing and they thrive."