11 Awesome Alphabet Coloring Pages For Letter-Lovin' Kiddos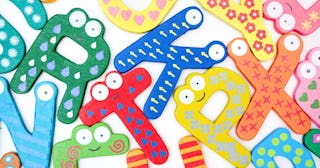 hudiemm/Getty Images
We all want our kids to love reading, right? Even if we're not particularly book-ish people ourselves, we understand the value of reading. Every book is an adventure and a chance to learn. And, if nothing else, having a kid who enjoys reading will certainly make homework time a tiny bit easier for the entire family. But, how do you even teach your kid to read? How do you get from wandering, babbling baby to bookworm grade-schooler? It starts, obviously enough, with letter recognition. "Yeah, great. But how do I get my toddler to learn their letters?" Exposure is key, friend. The more your kiddo sees letters, words, and books, the more familiar and exciting those things will be. One suggestion? Giving your child our collection of alphabet coloring pages to help master their ABCs.
Nailed down letters? These aren't the only coloring pages we offer. If you want to keep the educational fun going, print out our number coloring pages. Or ride the underwater theme with whale coloring pages or shark coloring pages. And explore space with rockin' rocket coloring pages and star coloring pages. Whatever your kiddo's interest, there's a coloring activity for that.
Until then, here are some super fun alphabet coloring pages and some more alphabet activity suggestions. Just keep exposing your kiddo to letters, and you'll make a reader out of them in no time.
Free Printable Alphabet Coloring Pages
Alphabet Page No. 1
Ooh, we love how these letters stand out against the stark black background! Challenge your kiddo to choose colors that make each letter of the alphabet pop even more. Or print this page out and consider having letter days, where all your snacks and activities start with a specific letter. (These letter E crafts are a good start.) As you complete a letter-themed day, let your child color that letter on this page. Did you know the most used letter in the alphabet is the letter E? The least common letter is Z.
Alphabet Page No. 2
Another obvious answer? Read! Read to your child obsessively. Don't worry too much about whether a book is "too hard" or "too easy." If your kiddo is obsessed with dinos, get dinosaur books at every level. Let them play with the board books on their own, read the picture books to them as they cuddle close, and take the lead at bedtime by going on a week-long dino-filled adventure from an early chapter book. It may not seem like it, but they're noticing the letters on the pages and the covers. They're processing details we don't even see anymore. Fun fact: That little dot that we put over the "i" is called a title.
Alphabet Page No. 3
Touch the alphabet. Buy foam bath letters. Grab that Elmo suitcase full of the small plastic alphabet tiles. You'll lose some letters literally the second you open it, but your child will love it nonetheless. And they hurt less than LEGOs when you step on them. Promise. Also, did you know the longest English word that isn't spelled with any Es is floccinaucinihilipilification?
Alphabet Page No. 4
Do letter-themed sensory bins. Kick up the learning by choosing new letter themes for your bin. Having an "r" day? Use rice instead of sand. Add red things, race cars, raisins, and rainbows. For an "f" bin, add flowers, feet, and frogs. Or, if you're not afraid of messes, incorporate flour!
Alphabet Page No. 5
Draw the letters in everything. Finger painting? Test your kiddo's letter recognition by drawing them on that mess of yellow and blue paint. Playing outside? Use a stick to draw letters in the dirt. And when you're washing off a dirty day at bath time, spray some shaving cream on the tub wall and write the ABCs in that, too!
Alphabet Page No. 6
Play matching games. Grab a piece of craft paper (or printer paper) and write out the letters. Have your little bug hunt through their plastic, foam, and magnetic letters to match them to each letter on the paper. Want to evolve the activity as they grow? Have them match lowercase to uppercase letters. Or have them hunt through the house to find something that starts with each letter.
Alphabet Page No. 7
Buy alphabet food! From alphabet soup to alphabet cereal and cookies, you can find letters on or in all kinds of delectable places. Serving letter-decorated foods is another terrific way to expose your kiddos to their ABCs.
Alphabet Page No. 8
Get physical! When was the last time you and your partner or older kids got down on the floor and wiggled around? Have your little letter learner perch on the couch while you and a buddy stretch out on the floor and try to bend and tangle your bodies into the shape of letters.
Alphabet Page No. 9
Sing the alphabet song. Listen, we love all of Daniel Tiger's sweet, situational ditties — but, sometimes, we need to rely on the classics. Heating lunch? See how many times you can get through the ABCs while the microwave works its magic. Need a bedtime song? Opt for the alphabet to kick things off.
Alphabet Page No. 10
Read. Yes, we're saying it, again. Reading is key. Too tired to crack open another book? Oh, Mama. We get it! Walk back your screen time rules occasionally, though, and look for books on YouTube. There's a surprising number of videos that are literally just someone reading a picture book to the camera. It counts. We said so.
Alphabet Page No. 11
Fun fact: Did you know the letter "E" is the most used letter in English and that "J" was the last letter to be added to the alphabet? And here's an even stranger factoid: The letter "Q" is the only letter in the alphabet that isn't in the name of a US State name. But the interesting letter info doesn't stop there: Did you know W, U, and V were considered the same letter?
Click here to print all of the alphabet coloring pages at once!
This article was originally published on