'This Is Who I Am Now': Amy Schumer Goes Full Mom With Her Outerwear Look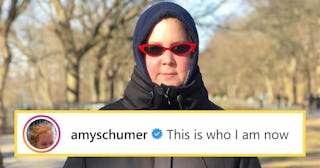 Amy Schumer/Instagram
Amy Schumer is always keeping things real when it comes to motherhood
We love everything about Amy Schumer because she's open, brutally honest, overshares (in the best way possible), and has brought all her fans along with her through her pregnancy and new mom-hood. Her latest post is no exception — showing the world just who she's become since having baby Gene last year — a mom who doesn't have time for nonsense.
Schumer posted a recent picture of herself on Instagram bundled in a giant coat, hoodie pulled up tight over her face and rocking some (what I pray are) grocery store-bought sunglasses next to the caption, "This is who I am now." As a mom who regularly wears pj's to pick my kids up from school (what can I say, I work from home), I support this outfit 100 percent.
https://www.instagram.com/p/B9NK9YXpetB/?igshid=12w9ob0zhw9b3
Schumer has shared the highs and lows of parenting since giving birth to Gene — and there was nothing glamorous about her getting there in the first place. She suffered from hyperemesis gravidarum, a condition that causes repeated sickness and nausea, and was hospitalized several times as a result. Schumer shared much of her journey on social media, and now we are blessed with PPA (Post-Pregnancy Amy) in all its glory.
Schumer's outfit is peak motherhood — little regard for the fashion side of things but well thought-out from a weather perspective. Nip in the air? Schumer's not concerned. She's head-to-toe warmth and ready for whatever the world throws at her. Windy day? Doesn't bother her — she's good with a hood. It's all about function.
Schumer's also shared her journey into working motherhood, talking about her struggle to leave her son to go back to work.
"5 months today and like all moms I love him so much it hurts. Im feeling strong and good and like I'm still a human being with interests and ambitions and goals I'm excited to reach. It's felt good to be back at work," she wrote on Instagram next to a picture of her snuggling Gene. "I was so worried about it and was afraid to go back after he was 3 months old. A couple days I've cried from missing him. But it's mostly good to be back and the breaks energize me to be a better mom and appreciate our time even more. I have it a lot easier than many people but I wanted to share my experience."
It's clear Schumer is nailing this mom thing gloriously — outfits and all. We approve.