Expecting Twins? Here's A Creative Way To Name Them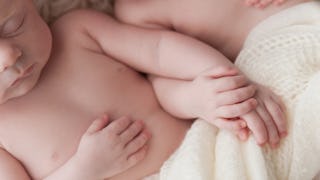 katrinaelena/Getty Images
The bond between twins is undeniable — and beautiful. They are a part of one another in a way that no other siblings can claim, finishing one another's sentences, understanding each other on a deeper level than anyone else ever will.
You can pay homage to that twin bond in a meaningful way through their names. No, this doesn't mean giving your twins rhyming names (a la Mike and Ike) or male/female versions of the same name (Daniel and Danielle) — some of those combos are cringe-worthy at best.
If you're looking for twin names with a little less cheese factor, consider anagram names: they're the same letters in different arrangements, complimenting one another without being "matchy-matchy."
Boy/Girl:
Girl/Girl:
Boy/Boy:
Cyril + Lyric (this could also work for boy/girl twins)
Meyer + Emery (another that would work for boy/girl twins)
These anagrams make perfect twin names. Because like your twins, they're made up of the same stuff – but still independent, with a personality and meaning all their own.
Need more baby naming help or inspiration? Check out the full Scary Mommy Baby Names Database!
This article was originally published on