Just A Ton Of Anime Names For Your New Little One-Punch Baby Boy Or Girl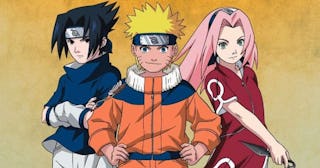 Studio Pierrot
If you're an anime fan (which, if you're here, you probably are), you may be considering anime names for your child. Or, hey, maybe for a character in a story you're writing. Heck, perhaps you need a moniker for the family pet. Regardless, you're here because you want to pay tribute to the art of anime through naming. And we get it — choosing a name for your child is, first and foremost, a reflection of yourself. It's no different than choosing a wizard name or a name from Harry Potter. So, why not name your child after a character from your favorite anime and show the world exactly how you roll?
"Anime" often means different things to different people. For instance, in Japan, the term refers to anything that is animated. In other words, they might classify Disney and Disney characters as "anime." But while Disney's animated films have evolved to include the exaggerated facial expression animation style popular in anime, most would agree the likes of Frozen's Elsa and Moana just aren't classic anime. Generally speaking, "anime" refers to animation exported from Japan.
How does anime differ from the animated work coming from the rest of the world? While each anime often has a unique art style, they have a few things in common with each other that set them apart from places like, say, Disney. One big difference is in the animating technique. While Disney often focuses on the tiniest details of movement (like the flowing hair on Merida in Brave), anime tends to put more effort into the art itself. There are also significant differences in body styles. Most human characters will look pretty close "to scale," except their often much more prominent eyes. Interesting, right?
So, you want to show your appreciation for anime and Japanese culture by using an anime name. We're here to help! We've included lists of names from some of the most popular anime girl names and anime boy names out there. Even better? We're also going to walk you through our favorite choices from each one. At the end of the day, though, it's ultimately your choice.
Anime Names From Bleach
Ichigo is the most popular character in the series, which makes his name a solid option. We also like Kenji, a moniker that means "wise, second." And Nel, for a girl, sounds like the old-school popular name Nelle (Harper Lee's first name). Nelle means "sun ray," but Nel is short for Nelliel.
Boys
Byakuya
Cain
Gō
Jin
Ichigo
Kenpachi
Kisuke
Renji
Ryō
Shunsui
Sōsuke
Tōshirō
Ulquiorra
Uryū
Yasutora
Girls
Kūkaku
Nel
Orihime
Rangiku
Rukia
Soifon
Yachiru
Yoruichi
Yoshi
Anime Names From Naruto
Naruto has some of the best names. We particularly like Madara for a boy. Fans have concluded that Madara means "spots." They might be right — the only meaning we could find was the Italian version of the name (with the same spelling). In Italian, it could mean bald, wet, or humid.
Our favorite girl's names? While we love Sakura and Sarada, our favorite is Ino. Ino's simplicity lends itself perfectly to a middle name, right up there with options like Lee, Kay, or Marie. Ino means "wild boar," though, so you might be setting yourself up for a headstrong child!
Boys
Itachi
Kakashi
Madara
Minato
Nagato
Naruto
Obito
Sasuke
Girls
Himawari
Hinata
Ino
Kaguya
Sakura
Sarada
Temari
Tenten
Tsunade
Anime Names From Dragon Ball Z
There are a lot of easy choices from DBZ. For boys, Broly sounds similar to the somewhat trendy Brody. At the same time, "Trunks" has a cute nickname-turned-real-name vibe to it. You could also opt to bring the action and movement naming trend popular for boys to your baby girl by picking the name Launch. It's a word we're all familiar with but, here, you'd use it in a completely different setting. Think of it like naming your kiddo Apple or Bird. And, finally, we think Marron sounds super-pretty.
Boys
Broly
Gohan
Goku
Goten
Krillin
Raditz
Roshi
Tien
Trunks
Vegeta
Yamcha
Girls
Bulla
Bulma
Chi-Chi
Launch
Lazuli
Marron
Pan
Videl
Anime Names From Sailor Moon
Sailor Moon was such a girl-power anime! However, many of the names are rooted in masculine meanings (like Mars, for instance). Many of the monikers, such as Luna, are already fairly common. While Artemis is historically a girl's name, we love it for both genders. And the name Sailor? Not only does it work for Sailor Moon fans, but it's also a solid alternative to names like Ranger, Army, or Maverick.
Boys
Jupiter
Mars
Nephrite
Neptune
Sailor
Girls
Artemis
Chibiusa
Galaxia
Luna
Mercury
Moon
Sailor
Serenity
Anime Names From Full Metal Alchemist
Of all the anime on our list, FMA perhaps boasts the names with the most diverse heritage. Archer is already wildly popular, and Edward is an oldie but goodie. Our favorite little boy FMA name? Havoc! It's pretty badass, right? There aren't many girl names on the list, but we love Winry. Plus, Winry is a freakin' mechanic, so that gives off some rad feminist vibes. It also has a softness to it that we find oh-so-sweet.
Boys
Alphonse
Archer
Edward
Elric
Fuery
Havoc
Kaib
Maes
Mustang
Pinako
Roy
Girls
Even More Anime Names
If none of the above suit your fancy, we have even more options to peruse below.
From Neon Genesis Evangelion
Boys
Gendo
Kaworu
Kouzou
Makoto
Ryoji
Shigeru
Shinji
Girls
Asuka
Maya
Misato
Rei
Ritsuko
From Fruits Basket
Boys
Ayame
Hatori
Hatsuharu
Kyo
Ritsu
Shigure
Yuki
Girls
Akito
Arisa
Kagura
Kana
Kisa
Kyoko
Momiji
Saki
Tohru
From Fairy Tale
Boys
Erigor
Gajeel
Gray
Invel
Laxus
Natsu
Rogue
Sting
Zeref
Girls
Dimaria
Erza
Juvia
Lisanna
Levy
Lucy
Kagura
Mirajane
Ultear
Wendy
From Chobits
Boys
Hideki
Hiromu
Hiroyasu
Minoru
Zima
Girls
Chi
Chitose
Dita
Freya
Kotoko
Sumomo
Takako
Yumi
Yuzuki
From Inuyasha
Boys
Akago
Inuyasha
Hakudoshi
Jaken
Koga
Miroku
Myōga
Naraku
Shippo
Tōtōsai
Girls
Kaede
Kanna
Kagome
Kagura
Kikyo
Kirara
Kohaku
Rin
Sango
From One Piece
Boys
Abdullah
Absalom
Agotogi
Agsilly
Agyo
Ahho Desunen
Ahiru
Albion
Akumai
Alpacaman
Amadob
Amazon
An Zengaiina
And
Andre
Anjo
Antonio
Aremo Ganmi
Arlong
Arrow
Arthur
Atmos
Attach
Avalo Pizarro
Baggaley
Bakezo
Bakkin
Bankuro
Banshee
Banzaburo
Bao
Bao Huang
Bariete
Barrel
Barry
Bartholomew Kuma
Bartolomeo
Bas
Basil Hawkins
Basilisk
Bastille
Batchee
Batman
Baxcon
Beer VI
Belo Betty
Girls
Acilia
Adele
Aggie
Aisa
Aladine
Ally
Alvida
Aphelandra
Asahija
Ashura Doji
Aswa
Bacura
Ban Dedessinée
Banchi
Banchina
Belladonna
Bellett
Bell-mère
From Demon Slayer
Boys
Tanjiro Kamado
Zenitsu Agatsuma
Inosuke Hashibira
Kanao Tsuyuri
Amane Ubuyashiki
Hinaki Ubuyashiki
Giyū Tomioka
Shinobu Kochō
Kyōjurō Rengoku
Tengen Uzui
Mitsuri Kanroji
Muichirō Tokitō
Gyōmei Himejima
Obanai Iguro
Sanemi Shinazugawa
Goto
Hotaru Haganezuka
Kozo Kanamori
Kotetsu
Murata
Ozaki
Kanae Kocho
Girls
Genya Shinazugawa
Kagaya Ubuyashiki
Nichika Ubuyashiki
Kiriya Ubuyashiki
Kanata Ubuyashiki
Kuina Ubuyashiki
From Avatar: The Last Airbender
Boys
Baraz
Bato
Bohai
Bolin
Boma
Bujing
Bum-Ju
Bumi
Bushi
Butakha
Cam
Chan
Chin
Chey
Chit Sang
Chong
Chow
Chung
Daw
Ding
Dock
Desna
Druk
Due
Girls
Meng-Meng
Ming
Ming-Hua
Ming-Ming
Misu
Miyuki
This article was originally published on