25 Romantic And Fun Anniversary Ideas To Woo Your Sweetheart All Over Again
by Team Scary Mommy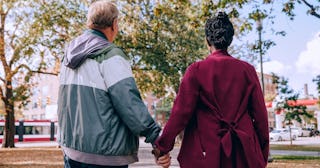 Nicole De Khors/Burst
Remembering your anniversary is just half the battle. Actually putting in the effort to plan and execute a memorable and romantic anniversary celebration is the next part. Oh, but first you must come up with a brilliant idea that isn't as lame and boring as dinner and a movie. It doesn't have to be surprise tickets to Paris either, but something that's different and the both of you will remember. Marriage is no joke and surviving another year with someone you've experienced so many ups and downs with is not easy.
RELATED: 13 Of The Best Anniversary Gifts For Him That'll Score You Major Bonus Points
Above all, your union deserves to be celebrated because it's special and incredible that you've made it this far. What you really deserve is a standing ovation, but if you're stressing out about how to celebrate your milestone — whether it's year 1 or 21 — we rounded up the best anniversary ideas to help you woo your sweetheart all over again.
Related: 50+ Rainy Day Date Ideas That Will Leave You Feeling Warm And Cozy Inside
Have a lazy day together. Stay in bed, make breakfast in bed, and Netflix and chill.
Picnic at the park. If your anniversary is in the warmer months, pack up your favorite meal with a nice bottle of wine.
Spa day. Book a couples' massage and indulge with facials and mani and pedis.
Make it a staycation. Book a hotel room in your city and order room service.
Take a dancing lesson. Learn the tango, salsa, or another ballroom dance to connect with your partner in a new way.
Head out on a road trip. Take a map or let the open road take you somewhere fun and unknown.
Go camping. A campfire, a cozy tent, and the great outdoors make for a memorable date.
Volunteer together. If there's a passion project or cause you both love, put your love towards doing some good for others.
Take a cooking class. Learn to cook your favorite meal or a scrumptious dessert that you can share together afterward.
Stroll through a botanical garden. Take in the pleasant sights and smells of your local oasis.
Go to an amusement park. Unleash your inner child and have fun on the rollercoasters, eating cotton candy, and winning a teddy bear for your love.
Take a cruise. If your anniversary is in the summer, take a chartered cruise in your city and have your very own Love Boat.
Go ice skating. For those with a winter anniversary, ice skating hand-in-hand is ultra-romantic. Later, treat yourselves to yummy hot cocoa.
Take a fitness class. Those who sweat together, stay together. Take your favorite fitness or hot yoga class. It's the perfect excuse to shower together once you're done.
Visit a winery. Sipping on delicious wines and snacks at a scenic vineyard is always a good idea.
Explore a new city. Whether it's somewhere close or far away, jetting off for a quick vacay can be incredibly romantic and exciting.
Go on a retreat. Rejuvenate your love on a yoga or meditation retreat.
Head to a painting cafe. Sip on coffee or wine and tap into your inner artist. A fun twist? Try painting portraits of each other.
Go to a concert. If you both love music, treating yourself to a concert is something you both will love. Bonus if it's your favorite band or the singer who sings 'your song'.
Try sky diving. For the adventurous couple who don't mind taking big leaps in their relationship.
Go for a hike. The gorgeous outdoors, with its amazing vistas, are always inspiring. It also gives you both a chance to be truly alone together, so there's nothing stopping you from getting down and dirty in the woods.
Hit the water. If you live near a lake or ocean, try a fun water activity that you've never done before, like kayaking or sailing.
Go to a comedy club. Laugh your troubles away at a local comedy club.
Attends a sports game. The perfect date for sports fans. Wear your favorite sports attire and feast on hot dogs and popcorn. If major leagues are out of your budget, consider seeing a local team of your favorite sport.
Visit your first date night spot. If you're able, revisit the place where you first fell in love and do it all over again — to the last detail. It also gives you some real perspective as to how far you both have come as individuals and a couple. The moment can be both illuminating and heartwarming.
Related: 100 Self Care Ideas For Inspo When You're Ready To Put Yourself First
Anniversary gifts for couples
If there's one thing you should never forget on your anniversary, it's the present. Engraved watches and roses are played out (but still a beautiful gesture!) The suggestions below are personal and unique, and if you're lucky, your partner might even shed a tear.
This might be something straight out of an 80s movie but make them a mixtape of the soundtrack of your love. Compile it based on your experiences together. You can include the first song you danced to, the music that was playing the first time you said "I love you," and the song you danced to at your wedding. It's such a teenage thing to do but it also shows that you've been paying attention all these years and that's enough to make anyone's heart flutter.
Matching mugs are always a cute way to go. You can put a picture of the two of you together or an inside joke that's been a staple to your relationship. It only has to be personal and unique to your love.
This article was originally published on