Ashley Graham Advocates For Birthing Partners To Be Allowed At Delivery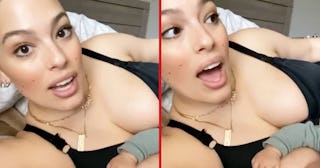 Ashley Graham/Instagram
Ashley Graham underscores the crucial role birthing partners play during delivery
In response to the escalating coronavirus pandemic, some hospitals have announced a new precautionary policy: Birthing partners won't be allowed in delivery rooms. And having just given birth to her first child, son Isaac, back in January, model Ashley Graham feels compelled to advocate for other parents during this difficult time. Taking to Instagram, she emphasized how vital the presence of birthing partners is. That's not all she did, though — Graham is also on a mission to get more personal protective equipment, or PPEs, in the hands of healthcare workers.
"So now due to COVID-19, there are some hospitals in New York City that are not allowing mothers to have their significant others there in the room while they're delivering — which means mothers will not have a support system when they're actually delivering their child," Graham said while breastfeeding baby Isaac in a new Instagram video. "And I understand that hospitals have to protect their staff, they have to protect the patients, the mothers, the children, and everybody else who's there. But I really believe that mothers need to have that support system, even if it's just one face that they know and they trust."
https://www.instagram.com/p/B-IU4IWjUVj/
As Graham explains, it would have been "a much different laboring process" for her had her husband Justin not been allowed to be there to look into her eyes and tell her she could do it. That's not to say Graham doesn't understand and support measures being taken to help thwart the spread of the novel coronavirus. However, she simply feels the benefits of a birthing partner are far too important to discount. "I do believe that we need to continue to stay home, to really 'flatten the curve,' but bringing life into the world is a whole other conversation," she said.
One major part of the problem? Healthcare workers are facing a severe shortage of PPE, which is driving hospitals to enact more restrictive guest protocols. To that end, Graham revealed she is working with midwives to make sure they have enough PPE for home deliveries, too (the way Graham gave birth). She also encouraged fans to sign a Change.org petition asking NewYork-Presbyterian to reconsider its stance on birthing partners not being allowed at birth.
"It's crucial we help this cause by having PPE available for healthcare workers and midwives so we can protect new mothers, infants, their families, and ALL patients. I'm doing what I can to support my midwives, but every healthcare worker out there needs your help, for the good of all of us," she shared in the caption for the video.
Although self-isolation and social distancing are clearly warranted right now, childbirth — as Graham points out — constitutes extraordinary circumstances. Plus, guidelines set forth by both the World Health Organization (WHO) and the Centers for Disease Control and Prevention (CDC) recommend that birthing mothers be allowed to bring one support person with them to the hospital.
Graham ended her video plea with a simple yet heartfelt message to all of the expectant mamas undoubtedly worrying their heads off right now, saying, "For all the mothers out there, I'm thinking of you, I love you, and remember that you are not alone."