Ashley Graham Posts Video Of Herself Pumping In An Uber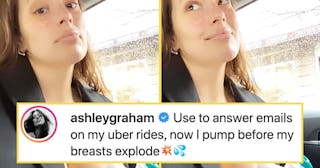 Ashley Graham/Instagram
Ashley Graham shares footage of herself casually pumping in an Uber
I'd like to direct your attention to our new champion of breastfeeding moms — Ashley Graham. Since the birth of her son Isaac barely over a month ago, the model and body positivity advocate has shared several images of herself nursing, some in public. It's clear she's on a mission to help normalize breastfeeding (because sadly, it still needs to be normalized in the year of our Lord 2020) and her latest post is possibly her best. Graham just shared video of herself pumping in an Uber — because what working mom who is breastfeeding hasn't been there?
"Use to answer emails on my uber rides, now I pump before my breasts explode," she captions the brief clip.
Does it get any more multitasking mom than pumping in the back of a cab? I think not. Most people in the backs of cabs get to discuss dinner plans, people-watch, scroll their phones, or maybe make out a little. But not moms. We don't have time and whatever time we do have needs to be used wisely. Hence, Graham's little pumping sesh on wheels.
Back when I pumped exclusively for my first baby, I spent many a pumping session in my car while she napped between playdates, grocery trips, or doctor visits. Radio on low, pump humming along, just doing what I had to do. It's nice to know that even models feel like their boobs might burst if they don't express a little milk in between other errands.
When Graham isn't pumping, she's nursing Isaac wherever she happens to be when he's hungry. A coffee shop? Sure.
During her podcast? Yup.
While sitting in bed idly scrolling emails or Insta or whatever the heck? There too.
We're extremely here for Graham's nursing chronicles because although we've made strides in helping breastfeeding moms feel comfortable and accepted feeding their babies in public, we still have a ways to go. The more positive imagery of nursing moms that makes it onto social media, the better. We love her for helping the cause.