Australia's New South Wales Is Free From Fires For The First Time In 240 Days
by Christina Marfice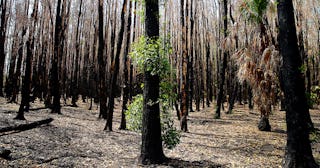 Nathan Edwards/Getty
After heavy rainfall, officials declared all remaining bushfires in New South Wales extinguished
Could this finally be the end of Australia's brutal fire season? For the first time in 240 days, the Australian state of New South Wales has been declared free from any remaining brush fires. The announcement comes just weeks after firefighters said all remaining blazes were finally contained, and after months of fighting one of the worst wildfire seasons Australia has ever seen.
The months of fires all over the country left at least 28 people dead, and destroyed around 3,000 homes. Experts estimate that up to a billion animals were either killed or displaced by the blazes. Firefighters called the season "very traumatic, exhausting and anxious." Deputy fire service commissioner Rob Rogers said it has been "a truly devastating fire season for both firefighters and residents, who've suffered through so much this season." But now, finally, some of Australia is seeing some relief.
"For the first time since early July 2019, there is currently no active bush or grass fires in #NSW," the New South Wales Fire Service tweeted this week, alongside a photo of a still smoldering part of the countryside. "That's more than 240 days of fire activity for the state."
A big part of what helped get the fires under control was torrential rainfall in the last few days – some of the heaviest rain New South Wales has seen in years. The fire service described the rain as the "most positive news we've had in some time."
But while the rain helped finally put out the state's devastating fires, it brought its own brand of devastation: Flooding, damaging winds, dangerous surf, evacuations in several towns, and a number of school closures. Here's hoping that now that the rain has stopped and the fires are gone, the residents of the state will have a break from all the extreme weather and tragedy.
New South Wales is the state on Australia's eastern coast, which contains the city of Sydney, which experienced air quality 11 times worse than "hazardous" levels at the height of the wildfire smoke. It was also the state hardest hit by brush fires, though there were massive wildfires all over the entire country. Australia faces a fire season every year, but this year's followed months of drought and uncharacteristically extreme temperatures that contributed to a much worse fire season than the country usually sees. Blazes damaged a number of World Heritage Sites, including the Blue Mountains and the Gondwana rainforests in New South Wales and Queensland.