These Baby Names Had The Biggest Popularity Gains Last Year
by Rita Templeton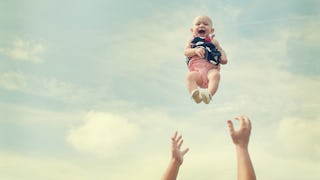 Jade Brookbank/Getty
Sometimes baby names rise slowly to the top of the Social Security Index's popularity charts, gaining slow steam year after year. But others are fast burners, skyrocketing not dozens, but hundreds of spots in a year's time — going from relative obscurity to wild popularity before you can say "new member of the Kardashian family."
Here, with the help of the Social Security Index's website, we bring you the 10 boys' and 10 girls' names that made the biggest leaps and bounds … whether you want to use this info to help you choose a trendy baby name, or steer clear of choosing one.
Girls
Ensley. Jumping a whopping 1,461 spots, from being off the top 1,000 entirely at #2,426 to firmly securing space #965, this one's got a trajectory that suggests it will continue the climb.
Oaklynn. Fast on Ensley's heels with a jump of 1,072 spots, from #1958 to #886 — but there's more. Its one-N counterpart, Oaklyn, is actually #4 on the list of biggest jumps, going up 749 spaces to occupy #676.
Dream. When we referenced the Kardashians, we were hardly kidding. It's thanks to little Dream Renée Kardashian, daughter of Rob Kardashian and Blac Chyna, that this name jumped 840 places, from #1,668 to #828.
Melania. You may love her or hate her (or, let's be real, question her taste in men) but First Lady Melania Trump has influenced the baby naming popularity charts, with her name leaping up 720 spots, from #1,650 to #930.
Emberly. Call it this generation's Kimberly (which, coincidentally, was ranked as high as #2 in 1966-67 and is still in the top 200). Emberly, a fresh take on the K-name classic, jumped 616 spots, taking it to a respectable position near the center of the list at #629.
Octavia. Oddly enough, this name was on the list every year from 1971-1998 … and then dropped off completely until 2017, when it showed back up in position #593, having made an inexplicable jump of 435 points. It may be the popularity of The CW's sci-fi series The 100, which featured a character named Octavia Blake. Or the fact that parents-to-be are looking for a similar substitute for the uber-popular Olivia.
Paisleigh. The soundalike spelling of this name, Paisley, is currently at #45 on the list — which is probably why this alternate spelling made such a big jump, from #1,204 to #840. Parents probably think of this spelling as somehow distinguishing it from regular old Paisley … but it still sounds the same, soooo…
Yara. The national obsession with Game of Thrones and its character Yara Greyjoy takes the credit for the leap that this name made, from #1,339 to #987.
Kehlani. The original spelling of this Hawaiian name is Kailani, but this spelling's leap in popularity (from #869 to #522) can likely be credited almost entirely to singer Kehlani Parrish (who just goes by her first name).
Amora. It's unclear what caused this name to go from off-list (#1,015) to #698, except that it's taken from the Spanish word "amor," meaning "love," and we could all use a little more of that in our lives.
Boys
Wells. Enjoying the biggest leap in the boys' category with 504 places — up to #915 from #1,415 — this name's boost is probably due to not one, but two TV shows from The CW: The Flash, and its character Dr. Harrison Wells, and The 100, mentioned earlier, and its character Wells Jaha.
Kairo. If it were Cairo, it'd be a place name (and at #646 on the list) … but thanks to the K-naming trend, Kairo made a 423-spot jump, from #1,226 to #803.
Caspian. It's another place name (you know, like the Caspian Sea), which in and of itself makes it popular; place names are very "in" right now. But add in the fact that it's a literary name from C.S. Lewis' Chronicles of Narnia series, and the fact that actress Neve Campbell gave it to her son in 2012 (remember, trends take time to get a foothold), and those combined factors may explain Caspian's 328-spot leap.
Nova. For girls, this name has been on a steady upswing, bolstered by MTV reality stars Catelynn Lowell and Tyler Baltierra naming their daughter Novalee (Nova for short). But for boys, it wasn't even a thing — until it jumped suddenly onto the charts from #1,241 to #918. Perhaps it was due to the Villanova Wildcats winning the NCAA men's basketball tournament in 2016?
Colson. With the rampant popularity of similar Colton (and Colten, and Coltyn), perhaps parents are searching for a lesser-used alternative? Colson fits the bill — for now — although its leap of 323 places might mean that it, too, will someday be as popular as its counterparts.
Kace. Again, this may be a "kace" of parents wanting to find an alternate spelling for a popular name. There are Cases and Kases, and now Kaces too — jumping from #1,185 to a spot on the list at #870.
Kashton. This name combines the popularity of Ashton and Cash with the trendy K; put them all together, and it results in a jump of 302 spots, from #943 to #641.
Koa. Part Noah, part Kai, and a suitable (and still-unique) alternative to either one, Koa jumped 294 spots — from #1,233 to its first foray on the popularity list at #939.
Gatlin. Kind of a place name (ever heard of Gatlinburg, Tennessee?), and a two-syllable name with an N-ending, which is always favorable for boys, Gatlin enjoyed a rise of 282 spots.
Bjorn. A Scandinavian name never before seen on the charts before, this one jumped from #1,229 to #953. Its sudden rise in popularity is a bit baffling; maybe some parents just looked at the packaging of their baby carriers and took "Baby Björn" very literally?
This coming spring, the Social Security Administration will release a whole new set of data on the most popular baby names. Will these 20 names continue on their upward trajectory with the same speed, or fizzle out as fast as they got started?
Find new favorites and traditional classics, plus plenty of lists for inspiration, in the Scary Mommy Baby Name Database.
This article was originally published on