Perfect 3-Syllable Girl Names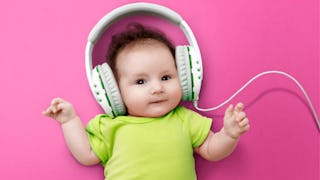 Svetlana_Smirnova/Getty
Hey, mama! It won't be long until your little bundle of joy is nice and snug in your arms. In the meantime, the search for your baby's name goes on and on. There are all sorts of unique names, literary names, religious names and more that might be the perfect fit for your baby. You are hot on the search for the perfect 3-syllable name, and you know what? You're not alone. According to the latest search data available, that query is searched for nearly 3,000 times per month. Perhaps you're looking for something with a specific origin, like Greek, Italian, or Russian names. Or maybe a Disney princess name for your little princess?
Either way, sometimes, you just need something with a specific number of syllables to make your baby name sound balanced. Have you considered a nickname or a middle name as a first name? What about a last name as a first name. They're often shorter, to the point, and incredibly unique. Luckily for you, we've gone ahead and done all the researching and collating so you don't have to — you've got plenty to do as is. So if you're in need of a bigger name for your little girl, "tri" these three-syllable monikers on for size.
Naming a baby can be scary. We can help! Check out our baby name database here.
Aaleya
Aaliyah
Aaralyn
Aayushi
Abigail
Adabelle
Adalynn
Addison
Adelaide
Adeline
Adrienne
Aisha
Alaina
Alaiya
Alani
Alaska
Alayah
Aleah
Alexa
Alicia
Allegra
Allison
Alondra
Alyssa
Amabel
Amanda
Amara
Amari-unisex
Amaya
Ambrosia
Amelia
Amelie
Amethyst
Amina
Amira
Amora
Anaya
Andrea
Angela
Aniyah
Annalise
Aretha
Arielle
Armani-unisex
Asheni
Athena
Aurora
Averie
Beatrice
Belcalis
Bellamy
Bellatrix
Bethany
Bianca
Brendana
Briana
Brianna
Briella
Camila
Carmella
Caroline
Cassandra
Cassidy
Catherine
Chicago
Christabel
Christina
Clarabelle
Clementine
Coraline
Coretta
Daleyza
Daniela
Daniella
Dayana
December
Decima
Delaney
Delilah
Destiny
Diamond
Diana
Dorothy
Eleanor
Elisa
Eliza
Elodie
Eloise
Emberly
Emerald
Emerson-unisex
Emersyn
Emery-unisex
Emmalyn
Emmeline
Eudora
Evelyn
Evelynn
Everleigh
Everly
Fatima
Fernanda
Fiona
Francesca
Gabrielle
Garrison
Genesis
Genevieve
Gianna
Gloria
Gwendolyn
Harmony
Helena
Holiday
Imani
Imogen
Inara
Indigo
Isabel
Isabelle
Ivanna
Jacqueline
Jaliyah
Janiyah
Jasiah
Jennifer
Jessica
Jezebel
Jillian
Jimena
Joanna
Jocelyn
Johanna
Josephine
Jubilee
Julia
Juliet
Juliette
Juniper
Kailani
Kalani
Kaliyah
Kamari
Kamila
Karina
Katherine
Kehlani
Kennedi
Kennedy
Keyara
Khaleesi
Kimberly
Lavender
Leilani
Leona
Leora
Liana
Liberty
Lilia
Lillian
Lorelai
Lorelei
Loretta
Lucia
Lydia
Mackenzie
Madeleine
Madeline
Madison
Mahala
Malaysia
Maliyah
Mallory
Marbella
Margaery
Margaret
Mariah
Maribel
Marigold
Marilyn
Maryam
Matilda
Mckinley
Melanie
Melissa
Melody
Meredith
Michaela
Mikayla
Milani
Minerva
Miracle
Miranda
Miriam
Monica
Muriel
Myrcella
Nadia
Naomi
Natalie
Nayeli
Nevaeh
Olenna
Priscilla
Rebecca
Rebekah
Regina
Remington-unisex
Renata
Rhiannon
Rihanna
Rosalie
Rosemary
Royalty
Sabrina
Samantha
Samara
Savanna
Savannah
Sienna
Sierra
Silvia
Sofia
Stephanie
Sybella
Symphony
Trinity
Valerie
Vanessa
Vivian
Vivienne
Ximena
Yaretzi
Zahara
Zariah
Zinnia
Zosia
This article was originally published on