Wonderful Word Names Straight From The Dictionary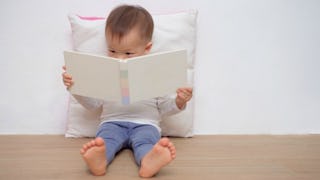 yaoinlove/Getty Images
These word names are indisputable proof that sometimes the best baby name book is… the dictionary. That's right! You can find some of the coolest names hidden among everyday words. The best part about getting your kid's name out of the dictionary is that if someone doesn't know how to spell it, you can sassily tell them to look it up! Thankfully, when your child's name is in the dictionary, it's usually less of a headache for others to read or spell because they're familiar with the word. It's also a smart way to select an uncommon name for your little one. Sure, you can name your kid Emma or Austin (which are absolutely beautiful names), but there might be other kids with the same name. If you're looking for an alias that starts with the letter J, an encyclopedia gives a chapter of options to choose from, and odds are, your kid's name will be one of a kind. As a bonus, many word names are unisex, which is awesome when you're trying to keep things on the gender-neutral side.
Word names encompass everything from verbs to nouns to adjectives and more. Want to name your baby after an admirable trait? Valor or Honesty! Want to name your baby after a profession? Shepherd or Baker. Want to name your baby after nature? Maybe something that reminds you of fall, like Autumn, or something classically outdoorsy, like Arbor. How about strength? Try Tiger. The possibilities are as limited as your largest and heaviest dictionary. (And when you're done with that, crack open that encyclopedia.)
Just because you're perusing Webster's dictionary for a name does not mean you're going to end up naming your kid "spoon." The possibilities are literally endless. As a matter of fact, new words are added to the dictionary every year! And because dictionaries are updated annually, pick up an old one to find even more uncommon words/names.
You can name your kid after almost everything, including attributes. Names like Hope, Constance, Mercy, and Faith fall into this category. You can also go with names that are occupations. Trust us, it's not as odd as it sounds. Your options won't be limited to words like firemen, assassin, or tax attorney. Names that are also professions include Carter, Hunter, and Parker, which are all very popular choices. Or you can go with nouns, which most names tend to be. Brook, Rose, and Azalea fall into this category.
The point is, if it has a dictionary definition, it can be used as a baby name. Maybe we should have included "Webster" in this list!
Need more baby name ideas for your little tot? We've got comprehensive lists for unique names for girls, last names as first names for boy, nicknames as first names for your little Ace, and so much more!
Curious to know more about your family name and the last names and meanings of other countries? Check out our package on last names from around the world. See how many you recognize: Irish, French, Russian, Spanish, Mexican, Brazilian, Portuguese, Italian, and African last names, among others.
Naming a baby can be scary. We can help! Check out our baby name database here.
RELATED: Yes, My Kids Have Weird Names — So What?
Quotes to Consider
If you're looking for further inspiration to give your baby one of these vocab-inspired names, consider these wise words by famous figures about the power of words.
"Be mindful when it comes to your words. A string of some that don't mean much to you may stick with someone else for a lifetime." — Rachel Wolchin
"Raise your words, not your voice. It is rain that grows flowers, not thunder." — Rumi "Kind words can be short and easy to speak, but their echoes are truly endless." — Mother Teresa
Ace
Achara
Adagio
Alpha
Alto
Amber
Ambrosia
America
Amethyst
Andromeda
Anemone
Angel
Angel-unisex
Apple
Aprille
Aqua
Aquamarine
Aquaria
Arbor
Archer
Arrow
Ash
Aster
Atlas
Aurora
Autumn
Baker
Banks
Banner
Bay
Beacon
Bear
Beta
Birdie
Bishop
Blade
Blaze
Blessing
Bliss
Blue
Breeze
Briar
Brie
Buck
Buddy
Bunny
Cache
Cadence
Calliope
Calyx
Camellia
Candy
Cannon
Canon
Cantor
Carter
Cascade
Case
Cash
Cedar
Chance
Charisma
Charity
Chastity
Cherish
Chip
Chord
Cinder
Clay
Cliff
Clover
Cobalt
Colt
Cookie
Copper
Coral
Cove
Coyote
Creed
Crew
Crystal
Daisy
Dash
Deacon
Dell
Delta
Destiny
Deuce
Dew
Diamond
Dove
Drake
Dream
Duke
Dusty
Earl
Eloquence
Ember
Emerald
Fable
Faith
Falcon
Fawn
Felicity
Fisher
Fjord
Flint
Flora
Ford
Fox
Frost
Fuchsia
Gage
Garnet
Gates
Gene
Genesis
Gentry
Ginger
Glen
Glory
Grace
Grant
Gray
Harbor
Harmony
Haven
Hawk
Hazel
Heath
Heather
Heaven
Herb
Holiday
Holly
Honesty
Honey
Honor
Hope
Hunter
Icy
Indigo
Ivory
Ivy
Jack
Jade
January
Java
Jazz
Jetty
Jewel
Journey
Joy
Jubilee
Juniper
Justice
Kale
King
Kit
Lake
Lane
Lark
Laurel
Lavender
Leaf
Ledger
Legacy
Legend
Liberty
Lilac
Lily
Logic
Lotus
Love
Lumen
Lynx
Lyric
Magenta
Magnolia
Majesty
Major
Maple
Marigold
Marsh
Marshall
Marvel
Mason
Mauve
Maverick
Meadow
Melody
Mention
Mercury
Mercy
Meridian
Merit
Merry
Messiah
Mica
Miracle
Misty
Monday
Moss
Moxie
Navy
Noon
North
Nova
Ocean
Olive
Onyx
Opal
Orchid
Otter
Paisley
Pansy
Park
Parson
Patience
Peace
Peach
Pearl
Penny
Peony
Pepper
Peregrine
Peridot
Petal
Pharaoh
Phoenix
Pike
Piper
Pixel
Plum
Poet
Poppy
Porter
Posy
Prairie
Primrose
Prince
Princess
Promise
Psalm
Puma
Queen
Quill
Rain
Rainbow
Rally
Ranger
Ransom
Raven
Ray
Read
Rebel
Reed
Reef
Reign
Revel
Rhythm
Ridge
Riot
River
Robin
Rocket
Rocky
Rogue
Rose
Rosemary
Royal
Royalty
Ruby
Rue
Saber
Sable
Saffron
Saga
Sage
Sailor
Saint
Sandy
Sapphire
Savvy
Scarlet
Scout
Serenity
Seven
Shadow
Shell
Shepherd
Shore
Silver
Sincere
Skipper
Sky
Snow
Solo
Solstice
Sorrel
Sparrow
Spring
Star
Stark
Starling
Steel
Sterling
Stone
Story
Stylus
Suede
Summer
Sunday
Sunny
Symphony
Taffy
Tag
Talon
Tansy
Tau
Teal
Teddy
Theory
Tiger
Timber
Titan
Topaz
Trace
Treasure
Trinity
True
Tulip
Turquoise
Valley
Valor
Van
Verity
Victor
Violet
Wade
Wednesday
Willow
Winter
Wolf
Worth
Wren
Zinnia
Zip
This article was originally published on