These 29 Baby Names Have Some Dark Undertones
by Rita Templeton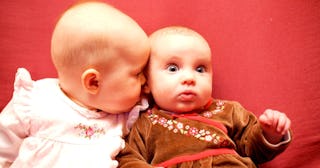 pascalgenest/Getty
Some folks take the meaning of their baby's name very seriously. Like, if a name doesn't mean "beauty" or "strength" or "intelligence" or "riding through heaven on the back of a rainbow unicorn" (okay, I made that one up), they don't want it.
If you're one of those people, you'll want to steer clear of the names on this list. It's a shame, because you'd be ruling out some gorgeous monikers, but these are baby names with unusual meanings. Not bad, necessarily … just not quite the glowingly positive symbolism some parents-to-be hope for.
It's an adorable name, and much of America agrees — it's currently #239 of the top 1,000 most popular girls' names. But Lola is a diminutive of the Spanish name Dolores, which means "sorrows." Wah-wahhhh.
The name Mallory means "unfortunate" or "bad luck." Why not just adopt a black cat when little Mallory is born? That way if bad luck happens, you won't know who to blame it on.
This name comes from the Germanic word gisil, which meant "pledge" … but also "hostage." Just don't mention that last part and you're fine.
Have you ever heard the phrase "rue the day?" It means you will bitterly regret something — as in, you'll rue the day you tossed out a cute name like Rue just because it means "regret."
This is a beautiful Greek name, and if you'll just focus on its melodic sound, you can forget that it means "death." But wait — it also means "police station" in Hindi!
"Luring rock" is definitely a weird meaning, but that's exactly what Lorelei means. It actually comes from an old folk tale about a legendary siren who lured boaters on the Rhine River to their deaths. But hey, if it worked out fine for the Gilmore Girls …
This name's exact origins are disputed, so it has two meanings! One is "broken." The other has got to be better, right? Well, you decide: it's "short nose."
Coming from the Roman family name Porcius, one might think this name means "precious" — sounds similar, right? But no. It actually means … pig. BUT PIGS ARE REALLY CUTE.
If you're not into insects, you may want to steer clear of Deborah, which means "bee." Although let's be fair, bees are some of the more tolerable insects, right? Especially those fuzzy ones?
Currently at #681 on the popularity charts, this is another one whose "iffy" meaning doesn't deter parents all that much. Because who cares if this name is Hebrew for "bitter?"
This name means "bringer of death," likely comprised of the Greek elements pertho (to destroy) and phone (murder). Seriously, though, Greek mythological names are hot right now, and if you can overlook the whole "murder" thing (psssh, NBD, right?), this one is fantastic.
RELATED: The Most Unique Ancient Baby Names For Your Little Greek God Or Goddess
Aside from the obvious soup associations, Campbell is a cute name. It means "crooked mouth," but that's what braces are for, right?
The uber-popular Kennedy, great for boys and girls alike, currently stands at a whopping #59 on the popularity charts. So clearly the fact that it means "ugly head" is a complete nonissue.
This unisex name is said to be the Welsh form of the name Agrona. Thus, it means "slaughter." Just show little Aeron the meaning on this website, and while you're pointing, "accidentally" cover up the S and say it means "laughter." Yeah, that's it.
What's not to love about the name Coriander? It's a botanical name, which are super-trendy; it's got all kinds of cute nickname possibilities (Cori! Andi!); and … it means "bed bug." Well, two out of three ain't bad.
RELATED: 21 Foodie Baby Names Fresh From The Kitchen
Like Campbell, this one also means "crooked" … but instead of "crooked mouth," Cameron means "crooked nose."
Another name with two meanings: one is "noise," and the other is "sorrowful." But look at it this way: if one of the meanings actually does end up applying, it'll most likely be "noise," because … kids.
Are you a mopey person by nature? Is Eeyore your fave out of all the Pooh characters because you understand him on a deep level? Then maybe Brennan is actually the perfect name for your offspring — it means "descendant of sorrow."
"Hay," let's quit "stall"-ing and "moo"-ve on to the fact that Byron means "cow barn."
While sources agree that the Biblical name Amos means "carried," it can also mean "burden." But you know your kid won't be anything close to a burden, not even when he wants to be carried everywhere he goes.
This comes from the Hebrew word kelev, meaning … "dog." However, this could be a good thing if you're a dog lover. Dogs are the best.
We all have a list of things we'd improve about the city (or village) we live in. Whether it's a crappy public transit system or the fact that it's too small for a decent grocery store, naming your son Melvin could be a subtle dig: it means "bad town."
RELATED: These Are The Latest Location Baby Names
No, it doesn't mean "grouchy." In fact, Oscar doesn't even have a negative meaning, just unique: it means "deer friend." As in, friend of antler-having woodland creatures. Awww.
Your baby Soren might have the sweetest, squishiest little face in all the world, but that won't change the fact that his name means "severe."
The meaning of this name is actually unclear — and in fact, as it is likely an invented name, it may have no real symbolic meaning at all. But it's on this list because in Japanese, the literal translation of "makai" is "hell," soooo …
Rage! Frenzy! No, it's not what happens during a huge markdown sale at Target … it's just what the name Odin means.
This name comes from the Latin word caesaries, which meant "hair." Therefore, Caesar means … "hairy." Hopefully his name meaning will manifest itself on his chest only and steer clear of his back and shoulders and nostrils.
So here's an idea. Name your kid Caesar Calvin and maybe the hair situation will balance out — because Calvin means "bald," after all.
If you're into positive meanings, you might wanna stick to the similar-sounding astrological spelling of this name (Aries, which means "ram" — a good enough meaning unless you use it as a verb). Because this spelling, Ares, just so happens to mean "ruin."
As the parent of a kid whose name is on this list (Cameron), I can confidently say that a name's meaning has little-to-no impact on the actual person; my Cameron's nose is as straight as can be, thankyouverymuch. So bestow these beauties upon your baby with no worries, because the average person will never know what someone else's name means anyway.
For thousands of baby names (and their meanings!), fun lists, and general inspiration, check out Scary Mommy's baby name section!
This article was originally published on