10+ Awesome Games To Play At The Beach This Summer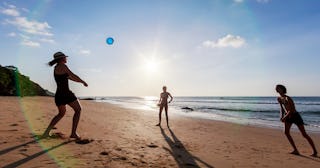 MaFelipe/Getty Images
Everyone loves a day at the beach. Whether you're with friends, family, and/or the kids, the sand and surf are a perfect combination for both playful and relaxing vibes. While some folks might want to kick back and soak up the sun, others see the beach as the perfect place to play beach games. And if you ask us, the beach is the ideal place to play some super-fun and diverse games that can appeal to everyone — no matter what age.
Whether you're into kicking around a beach ball, engaging in a multi-group activity with friends, or making castles in the sand, there's a host of beach games to try out this summer. Before you pack up your beach bag and hit the sand, don't forget to consult this list of best beach games and see what you need to bring to have a fun-filled day near the waves.
10+ Beach Games for Fun in the Sun
1. Beach Volleyball
The traditional beach-sport is a mainstay for a reason. It's competitive, it's fun, and you can play a two-versus-two match or include more players. You need a volleyball and a net to play, but some beaches have them already installed. So, bonus!
2. A Kite-Flying Competition
Who doesn't like to fly a kite? Flying a kite along the beach is a treasured pastime that kids adore. You can turn it into a game in several ways: see who can keep their kite up the longest, see who can do tricks, or see who can get their kite to fly the highest.
3. Football
A classic game that takes on a whole new vibe on the beach. Tossing a football around the water and diving into the waves is super fun (and instantly refreshing). Obviously, you don't want to do extreme football with contact — most lifeguards probably won't allow it anyway — but an easy toss-and-catch game is definitely beach-worthy.
4. Tug-of-War
This traditional game is a blast to try as a group on the beach, especially since the sand makes for a soft landing. The rules are easy: Two teams show off their strength until the losing team gets pulled over the center marker. Grab a decent rope before you hit the beach and show off those guns!
5. Beach Frisbee Golf
Substitute a plain old game of frisbee with frisbee golf. The same rules apply to regular frisbee golf. Your best bet might be setting up targets using what you brought with you (an umbrella, a towel, a hole in the sand) and then taking turns trying to throw your frisbee as close to the target as you can.
6. Hot Beach Ball
Need a beach game perfect for kids and adults? This game is like a classic hot potato. Everyone stands in a circle, and one person begins by holding a beach ball. As the music plays, everyone starts tossing the ball to each other. Whoever is holding the ball when the music stops is out.
7. Sandcastle-Building Contest
Another beach game fit for the whole family! Turn sandcastle-building into a beach game by dividing participants into teams of at least two people. Give everyone an allotted time to build the best sandcastle. A chosen judge will then pick the winning sandcastle based on specific criteria.
8. Beach Scavenger Hunt
A scavenger hunt is a dynamic activity for a party, especially when kids are involved. Create a list of specific beach items that everyone needs to find — everything from seashells to sticks to stones to different colored bathing suits and towels. Designate an area of the beach for the hunt, and then once everyone is ready, commence the game. Whoever finds all the items first, wins.
9. Bocce Ball
Bocce ball is one of the most popular beach games to play. Two people can play against each other, or you can play with two teams of two. The ultimate goal is to get your ball closer to the target ball (called the pallino) than your opponent. Bring your set with you and prepare to have some serious fun.
10. Toss-and-Catch Ball
What's more classic than tossing and catching a ball at the beach? It's also a good way for children to work on their hand-eye coordination. Instead of wearing a mitt, you'll wear a paddle with velcro to catch the incoming ball. You'll be having fun and bonding in the sunshine.
11. Sand Hopscotch
Hopscotch never gets old, and neither does the squishy feeling of sand between your toes. Half the fun is drawing your hopscotch game in the sand. Get creative and add some seashells or seaweed to make your design unique. Once you're done, play the way you usually would. Or make things interesting by drawing your hopscotch lane close to the shore. Throw the rock as the water recedes, and then try to complete everyone's turn before the waves wash the game away.
12. Bury a buddy
Split the kids into two teams and appoint two people to be buried. The team who buries their person in the sand (with their head out, of course) wins. To be safe, make sure the person being buried is wearing goggles to avoid getting sand in their face. If you're planting them horizontally, make the next round a competition about creating the cutest mermaid tale. The team who adds the most razzle dazzle to their teammates' tail wins!
13. Dart Throwing Contest
Make a circular wheel in the sand modeled after a regular dartboard. Then grab a bunch of seashells, sticks, and other sea treasures as your darts. The goal is the aim for the center, and the person with the most items in the middle wins. Or, to make things interesting, assign value to each item based on their difficulty to throw.
14. Decorate Rocks and Shells
Bring a few sharpies and washable paint. Go on a walk to find flat rocks and plain shells. Once you and your kiddos have gathered all the pieces you like, sit in the sand and write your names on them. Or draw a picture on them. You can either take them home as keepsakes or leave them in the sand for other beach dwellers to find.
This article was originally published on