Suns Out, Buns Out: Hacks For Your Ultimate Beach Vacation Packing List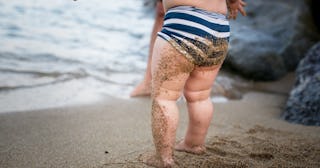 Mayte Torres/ Getty Images
Headed somewhere sandy for a little R&R? Whether you're the mom with the overflowing wagon of toys or a single girl traveling with the bare minimum, there's always room in the trunk for a few extra things. So we went ahead and curated an extensive packing list for your beach vacation. Do you have everything you need?
After the year we just had, we can all use some fun in the sun! One of the most annoying things in the world is probably arriving at the beach, only to realize you've left behind your sunscreen or book. With this list, you'll never forget a crucial beach item ever again.
Beach Packing Checklist — The Bare Necessities
1. Swim Suit
If you're spending multiple days at the beach, consider investing in more than one suit because there's nothing worse than putting on a wet bathing suit. 2. Towel Unless you're staying at an ultra-fancy resort, the towels your hotel offers are going to be flimsy. Your best bet is to bring a beach towel from home or stop at Target or a souvenir shop when you get into town. 3. Sunglasses Did you know that people with light-colored eyes are more prone to eye cancer? Protect your peepers with some trendy shades. 4. Sunscreen The higher the SPF, the safer you're going to be. Don't forget to reapply often, though. If your store carries it and you can afford it, make note of what you're buying because some sunscreens are better for the environment than others. 5. Flip-flops Pro-tip: Turn them upside down once you take them off so that they don't end up as hot as the sand when it's time to leave. 6. Snacks and water At the bare minimum, you'll want to bring a reusable water bottle so you don't get dehydrated from sitting in the sun. Some healthy snacks are also nice to have on hand, too. Cuties and frozen grapes are great choices. 7. Good book No first editions or fancy hardcovers because it's going to get sandy and wet. 8. Blue Tooth Speaker What's a beach day without your favorite tunes? If you're traveling sans kids, keep your fellow beach-goers in mind when picking out your music. You're going to get lots of dirty looks if you make a bunch of moms try to explain "My Humps" to their kids. 9. A Waterproof Bag For Phone/Keys 10. A Wet Bag For Damp Suits/Clothes 11. Cover-up
Beach Packing List When You're In It For The Long Haul
If you're spending multiple days in a beach-y location, there are a few more things to consider packing so that you're prepared for a full week of fun.
12. Aloe If at all possible, go for the kind with Novocaine in it. And consider sticking it in the fridge back in your room. 13. Umbrella While a lot of resorts offer cabanas or umbrellas, if you've planned something more low-key, you might want to consider investing in one of these. Shade is always nice. If you're flying home, you can always "donate" the umbrella to someone on the beach who came less prepared. 14. Small Cooler Your frozen grapes, and some frozen water bottles will help keep any sodas, juices, or sandwiches cold while you spend all day in the sand. 15. Rainy Day Activities If you've spent much time in South Florida, you probably know to expect storms during the afternoon. There's not always a lot of entertainment options in a hotel room, so consider bringing your own. A couple of smaller games (cards, story dice, etc), a stack of magazines, and some tropical movies ought to be enough to fill the void. 16. Handheld Fan 17. Wide-brimmed Hat 18. Comfy Walking Shoes 19. Something dressy Even vacations on the cheap usually involve one nice night out. If you're near the beach, even fancy restaurants are more laid back. Opt for breathable fabric and a summer-y color palette to keep the vacay vibes alive while still meeting dress codes. 20. Bug Spray 21. Baby Powder Once you make it back off the beach, dowsing yourself in powder makes it easier to brush off all that sand. The last think you want to worry about is vacuuming out a rental car when you're already late for your flight home.
RELATED: 36 Hacks And Packing Checklist For Your Next Camping — Or Glamping — Trip
Got Kids? Don't Forget These
22. Fitted Sheet
Pop bags, coolers, and other bulky items into the corners of your fitted sheet and you've created the perfect, sand-free relaxation zone. 23. Pop-Up Tent If you're traveling with babies and toddlers, a cooler, fully shaded spot is a necessity. 24. Extra, Extra Towels Towels always end up sandy or wet. It's one of the great mysteries of beach vacations. 25. Toys, Toys, Toys No matter how much you love sleeping in the hot sun, your kids need more stimulation. Buckets, shovels, and molds are all great options. 26. Floats The inflatable kind are nice because you can deflate them and take them home even if you're flying. However, don't underestimate the wonders of a boogie board or skim board. 27. Chairs 28. Even more snacks 29. Small First Aid Kit 30. Jar/Bag for Shells/Sand Collections 31. Boardwalk-to-Beach Hauling Options Whether you opt for a fancy folding wagon or divvy things up into a couple of easily totable IKEA bags, definitely find a solution that helps you get everything to the beach and back. And never underestimate your kids' abilities to help.
This article was originally published on